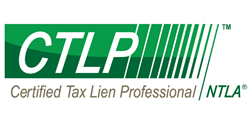 "The tax lien industry isn't for the amateur investor. It requires a high level of knowledge and experience. Becoming certified will demonstrate to your peers, business partners and clients that you are a professional." - Robert Keyser, Taylor & Keyser
Jupiter, FL (PRWEB) May 05, 2016
The National Tax Lien Association (NTLA), is pleased to announce the launch of its Certified Tax Lien Professional designation (CTLP). CTLP validates professional property tax lien expertise through training and an assessment exam. The CTLP credential has become the key designation for tax lien professionals. NTLA has chosen for the CTLP program to be administrated by Certification Bank, a complete credentialing solution.
Certification Bank (http://www.certificationbank.com) is a SAAS based software solution which allows the NTLA to better manage all aspects of its CTLP program. Members and program participants are provided a new user portal which outlines program specifics and next steps to earn the designation. The Certification Bank alerts candidates to stay on task and be aware of program requirements. The system will integrate with the NTLA's educational conferences, such as NTLA University, to produce transcripts for participants. All candidate and designee information will be accessible to NTLA staff through an administrative portal in Certification Bank. The administrative portal uses dashboards, and other sophisticated tools to keep NTLA staff fully knowledgeable about CTLP applicants.
Executive Director Brad Westover states, "We wanted our CTLP program to be the best designation available in our industry. We are pleased to engage Certification Bank to support our professional credentialing program." The Certification Bank administrative software is now up and running and is taking applications today for the CTLP designation (http://www.taxlienpro.org).
The National Tax Lien Association (NTLA) was founded in 1997 as a nonprofit professional trade organization for the tax lien industry. It is dedicated to representing the interest of investors, lenders, service providers, and government officials in regards to tax lien sales, as well as promoting the benefit of those sales as reliable income for municipal, county, and some state budgets. The NTLA also provides networking and training opportunities for those in the tax lien industry. More information on the association can be found at http://www.ntla.org.
Certification Bank (http://www.certificationbank.com) is a SAAS based credential management software for associations, organizations and for-profits. The solution provides a custom candidate portal, full flexibility for differentiated programs, integration with CRM, AMS, LMS and testing centers, as well as a robust administrative center with dashboards and a sophisticated tool set. The software is a service of Get Efficient, Inc., a consulting and technology integration firm based out of Cape Coral, Fl. For more information about Certification Bank or Get Efficient, please contact Dan Thoms at 407-870-3281.