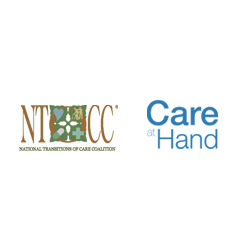 Washington, D.C. (PRWEB) March 10, 2014
The National Transitions of Care Coalition (NTOCC), an organization dedicated to improving patient transitions throughout the healthcare system, has added a new member to its Healthcare IT Innovations Task Force. Care at Hand, which offers a mobile care coordination platform that improves community-based care transitions by decreasing per capita costs and improving population health, is the fourth member of this forward-thinking team. The Health IT Innovations Task Force was launched in October 2013, and also includes RightCare Solutions, Vree Health, and Medecision.
"We are pleased to welcome a fourth member to this exciting Task Force," said Cheri Lattimer, RN, BSN, NTOCC Executive Director. "Managing transitions of care requires innovative technologies, and Care at Hand, along with our three existing Task Force participants, represent an entrepreneurial advisory resource for NTOCC and will help us lead the charge in creating effective solutions for improving patient transitions of care."
The Innovations Task Force is a complementary and diverse group that will collaborate with the NTOCC Board of Directors and Health Information Technology (HIT) Workgroup to identify existing gaps in HIT and consider solutions to help eliminate barriers to improved transitions. NTOCC and Task Force members work toward the shared vision of advancing transitions of care (TOC) issues and improving patient outcomes and care quality.
"NTOCC is a respected convener of thought leaders that are taking a leadership role in ushering post-acute care into the digital health era," said Care at Hand CEO, Andrey Ostrovsky. "We are honored to be invited to participate, and I am excited to get started with helping patients, providers, and payers improve care transitions with technology."
The Healthcare IT Innovations Task Force is open to technology companies focused on care transitions. For additional information, please visit http://www.ntocc.org/AboutUs/HealthcareITInnovationsTaskForce.aspx.
About the National Transitions of Care Coalition
The National Transitions of Care Coalition is a 501(c)(4) dedicated to addressing a serious U.S. health care issue: filling the gaps that occur when patients leave one care setting and move to another care setting. These transitions include patients moving from primary care to specialty physicians; moving or transferring patients from the emergency department to intensive care or surgery; or when patients are discharged from the hospital to home, assisted living arrangements, or skilled nursing facilities. The U.S. health care system often fails to meet the needs of patients during these transitions because care is rushed and responsibility is fragmented, with little communication across care settings and multiple providers. To learn more, visit http://www.ntocc.org and follow the Coalition on Twitter @NTOCC.
About Care at Hand
Care at Hand is a mobile care coordination platform that improves existing best-practice care transition programs to make readmission reduction more cost-effective. The patent-pending technology is unique in its approach to empowering community-based providers such as health coaches, home care workers, and community health workers to prevent high cost health care utilization. With a growing body of evidence, including a HIMSS case-study showing a 39.6 % reduction in 30-day readmissions and 257% return on investment, Care at Hand is emerging as a best-practice technology for community-based care transitions. For more information, please visit http://www.careathand.com.