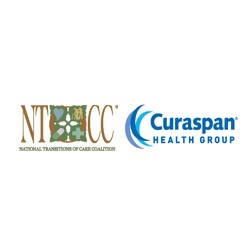 Washington, D.C. (PRWEB) January 16, 2014
The National Transitions of Care Coalition (NTOCC), an organization dedicated to improving patient transitions throughout the healthcare system, is proud to announce the addition of a new member to its Partners Council. Curaspan - a leading provider of patient-transition solutions that enable healthcare providers to connect, collaborate, and optimize value during all stages of the transition of care process - is the latest member to be added to the rapidly expanding council.
Cheri Lattimer, RN, BSN, NTOCC Executive Director, remarked, "We are pleased to welcome Curaspan to our Partners Council. Managing transitions of care requires not just strong thought leadership, but also product and resource innovation from every sector of the health care industry. Curaspan joins a diverse and dynamic team with which NTOCC leadership and the broader NTOCC community can partner to drive forward-thinking market solutions in all aspects of patient care transitions."
The Partners Council is a select group of industry partners representing various segments of health care and support industries, and brings together unique experiences, skill sets, products and services that allow NTOCC to further the mission of advancing solutions to challenges involving transitions of care. The Partners Council considers companies in the pharmaceutical, acute care delivery, managed care, retail pharmacy, medical device manufacturing, health care service and information technology sectors for membership.
"We are very excited to be joining the NTOCC Partners Council," says Eric Chetwynd, Director of Product Strategy at Curaspan. "Curaspan has been at the forefront of transition management for over 14 years, working with providers across the U.S. to create pragmatic technology and clinical solutions for improving transition management. We look forward to leveraging that experience through collaboration with the other members of NTOCC as we work together to improve the quality of transitions of care for every patient."
Companies that are invited to join the Partners Council enjoy various avenues for collaboration and dialogue within the NTOCC community, the ability to work directly with industry peers in crafting strategies and solutions to improve patient transitions, and enhanced opportunities to partner directly with NTOCC in exploring TOC solutions. For additional information, visit http://www.ntocc.org/ContactUs.
About the National Transition of Care Coalition
The National Transitions of Care Coalition is a 501(c)(4) dedicated to addressing a serious U.S. healthcare issue: filling the gaps that occur when patients leave one care setting and move to another care setting. These transitions include patients moving from primary care to specialty physicians; moving or transferring patients from the emergency department to intensive care or surgery; or when patients are discharged from the hospital to home, assisted living arrangements, or skilled nursing facilities. Working in conjunction with 450 Associate Member organizations and over 4,000 individual professional subscribers, NTOCC has developed tools and resources made available to everyone in the healthcare industry including providers, payors, patients and consumers. For more information, visit http://www.NTOCC.org and follow the Coalition on Twitter @NTOCC.
About Curaspan
Curaspan, the leading provider of patient-transition solutions, helps the top healthcare providers nationwide manage all aspects of transition planning. Curaspan's secure Web-based tools allow providers to automate, collaborate and optimize clinical and financial outcomes throughout the patient-transition process. Interoperable with all HIS, it is the foundation for initiatives like ACOs, HIEs, value-based purchasing and other evolving models of care and reimbursement. Founded in 1999, Curaspan headquarters are in Newton, Mass. For more information, visit http://www.curaspan.com.