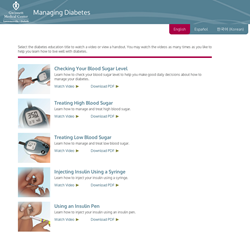 Patient education resources like this site that we developed with Nucleus, help empower patients to make good, informed medical decisions.
Atlanta, GA (PRWEB) June 17, 2014
Nucleus Medical Media, in partnership with Gwinnett Medical Center, produced the latest development in responsive patient education sites, the Managing Diabetes portal.
Gwinnett Medical Center will use the site to educate diabetes patients on topics like checking blood sugar level, using an insulin pen, and managing diabetes on sick days.
Nucleus Medical Media Director of Product Management, Ed Stewart, believes one of the major benefits of the project includes offering multiple languages to target the regional population the hospital caters to, "By creating animations in English, Spanish, and Korean, Nucleus is helping Gwinnett serve the populations that surround their facilities. This will help them ensure better compliance with diabetes care instructions and reduce the number of preventable readmissions."
Lynne Sycamore, Patient & Family Communications Specialist at Gwinnett Medical Center, says the site is a great way to promote patient education and medication compliance with diabetic patients, "This microsite will help patients with diabetes better manage their chronic condition and lead happier and healthier lives. Patient education resources like this site that we developed with Nucleus, help empower patients to make good, informed medical decisions. This leads to reduced preventable readmissions and improved health outcomes."
MaryBeth Clough, Medical Writer and Editor at Nucleus Medical Media, hopes the animations will make a difference in the lives of diabetes patients at Gwinnett Medical Center, "It was a pleasure working with Lynne Sycamore and her team to create these animations. Her experience as a patient educator, along with her team's experience interacting with diabetic patients, were a tremendous help during the script writing process. I'm looking forward to hearing feedback on the effectiveness of the content, both from the practitioners and their patients."
Nucleus Medical Media is one of the leading producers of 3D medical animations. With over 400 animations available in English and Spanish, as well as other languages by request, the Nucleus Animation Library is available to hospitals to use for patient education and healthcare marketing. Contact Kelly Tkac, National Director of Healthcare Sales to learn more about Nucleus medical animation solutions at ktkac (at) nucleusinc (dot) com.
About Nucleus Medical Media
Founded in 1997, Nucleus Medical Media, Inc. is an award-winning creator of medical illustrations, medical animations, and interactive multimedia for the publishing, legal, healthcare, entertainment, pharmaceutical, medical device, and academic markets. Nucleus's clients and partners include WebMD, McGraw-Hill, Dr. Oz, EBSCO Publishing, and thousands of other businesses in new and traditional media. Nucleus employs the world's largest team of graduate-degreed medical illustrators, and has a Medical Review Board with more than 125 physicians and nurses. For more information, click here to visit our website.