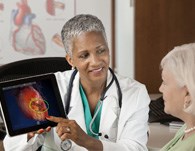 Use Nucleus 3D animation to attract those consumers searching for health information and education online to your hospital or health system.
Atlanta, GA (PRWEB) December 20, 2013
Nucleus Medical Media's 3D medical animations are versatile enough to include in almost any part of your marketing plan—television commercials, website, social media, waiting room, in-room CCTV, and more.
The following list delineates the most effective uses of the Nucleus 3D medical animation library to help hospital marketers maximize their return.
1. Replace older, dated content with accurate, eye-catching animation. Nucleus 3D medical animations are a great addition to or replacement for silo marketing content or older medical animation that you may already have. Refresh your marketing materials with detailed, modern content that healthcare consumers are searching for on the web.
2. Create derivative physician videos featuring your healthcare providers explaining conditions and treatments. Make the animations your own by producing short segments like television doctors that will interest and draw in patients from multiple sources like your hospital blog and
social media.
3. Put your patient education and marketing videos on YouTube with tags and keywords that patients are searching. The Pew Internet & American Life Project found that online searches for health information are the 3rd most popular online activity after email and general search engine use.
4. Integrate into current in-hospital tech systems like CMS, CCTVs, and patient portals. Nucleus Medical Media creates medical animations and illustrations for the "three screen world" and beyond. Maximize your marketing and patient education with images and animations that are stunning no matter where they are displayed.
5. Create an online library and use on service line pages of website. Medical animations perform well on the landing pages of hospital websites, but they can also draw in new patients on service line pages and in a library-style patient education format. Patient education is one of the most effect forms of hospital marketing, according to a study about hospital video marketing.
To learn more about Nucleus Medical Media or to start using medical animations for your hospital marketing, contact Kim Carbonara at kcarbonara(at)nucleusinc(dot)com or call (800) 333-0753.
About Nucleus Medical Media
Founded in 1997, Nucleus Medical Media, Inc. is an award-winning creator of medical illustrations, medical animations, and interactive multimedia for the publishing, legal, healthcare, entertainment, pharmaceutical, medical device, and academic markets. Nucleus's clients and partners include WebMD, McGraw-Hill, Dr. Oz, EBSCO Publishing, and thousands of other businesses in new and traditional media. Nucleus employs the world's largest team of graduate-degreed medical illustrators, and has a Medical Review Board with more than 125 physicians and nurses.