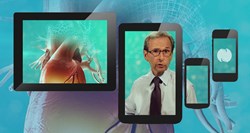 Nucleus views its YouTube channel as if we were broadcasting on television, which means we publish videos on a regular schedule.
Atlanta, Ga (PRWEB) January 28, 2014
Google awarded Nucleus Medical Media the YouTube Silver Play Button award for reaching the rare milestone of achieving 100,000 subscribers. With over 167 million views of the company's 3D medical animations on YouTube, Nucleus's health literacy channel ranks as one of the top viewed medical information video sites in the world.
The channel receives about 200 new subscribers and 50,000 views each day on the world's second most popular search engine, making it currently more popular on YouTube than any healthcare agency, hospital, pharmaceutical company, government health agency or celebrity doctor.
Ron Collins, CEO and Cofounder, says their success on YouTube channel comes from the quality of the company's 3D medical animations, and its long-term commitment to publishing new videos on a regular basis. "The Nucleus YouTube channel has a large following of students, patients and learners," said Collins, "and we like to keep our viewers engaged by publishing 2 to 3 new animations each month."
For further comment, contact Ronald Collins, CEO and Cofounder of Nucleus Medical Media, at rcollins(at)nucleusinc(dot)com or (770) 805-0460.
About Nucleus Medical Media
Founded in 1997, Nucleus Medical Media, Inc. is an award-winning creator of medical illustrations, medical animations, and interactive multimedia for the publishing, legal, healthcare, entertainment, pharmaceutical, medical device, and academic markets. Nucleus's clients and partners include WebMD, McGraw-Hill, Dr. Oz, EBSCO Publishing, and thousands of other businesses in new and traditional media. Nucleus employs the world's largest team of graduate-degreed medical illustrators, and has a Medical Review Board with more than 125 physicians and nurses. For more information, click here to visit our website.