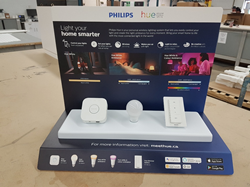 "Having a material like Vycom's Celtec that is of a consistent quality backed by attentive and responsive service helps keep our production moving along." -- Jason Pridmore, president, Nuform Manufacturing
SCRANTON, Pa. (PRWEB) February 26, 2019
Nuform Manufacturing based in Mississauga, Ontario, Canada, has been producing point of purchase and countertop displays for nearly 20 years. The company is a full, in-house manufacturer, priding itself on using cost-effective methods that take display projects from concept, to print, to fully constructed in little time. The company has chosen Vycom's Celtec® Expanded PVC in Vivid White because it helps them provide customers the quality they need at a reasonable price.
"Vycom and our distributor, Piedmont Plastics, work together to provide us with Celtec on a schedule that works for us, and at a competitive price," says Jason Pridmore, president of Nuform Manufacturing. "Having a material that is of a consistent quality backed by attentive and responsive service helps keep our production moving along."
Celtec was designed for use in a large range of projects, including point of purchase displays, signage, art, storage, store fixtures, exhibits/kiosks, dimensional lettering, and display boards. The lightweight material is easy to fabricate, paint and laminate. The smaller cell structure of Celtec Expanded PVC's optimal density provides for edge finishing and superior screw and staple retention and makes it easy to work with.
Nuform relies on the consistency and brightness of Celtec's Vivid White, to which their UV ink adheres very well. The ink doesn't crack, chip, fade or get distorted when the Celtec is bent during the display build process so the display looks as the designer intended.
It's also critical to them that Celtec is a consistent thickness across each sheet. They most often use 3mm Celtec, but Pridmore notes even going up to 12mm they don't have to worry that it will jam their digital printer. "It's important the material is as flat as possible and with a consistent, tight tolerance. If it's not, it could shut down the printer and risk damaging the machine," he says.
Since Nuform constructs the displays after printing the materials, they marry other materials such as styrene to Celtec for support and structure. The Celtec machines and glues very well for a durable display. "We can work very fast with it, so production runs in a smooth state," adds Pridmore.
Celtec® comes in a wide range of thicknesses and in a full line of standard colors, with custom colors available upon request. To learn more about Celtec, visit the Vycom website at http://www.vycomplastics.com.
About Vycom:
Vycom, a division of The AZEK Company, Vycom manufacturers market leading brands of highly innovative plastic sheet products designed to replace wood, metal and other traditional materials in a variety of applications. We strive to be the essential partner in creating solutions that optimize quality, performance and provide a more sustainable future. For more information, visit http://www.vycomplastics.com.