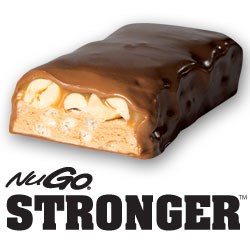 I highly recommend NuGo Stronger Caramel Pretzel to all my clients, as it is the best tasting protein bar I have ever had, and the whey protein absorbs quicker resulting in better post workout recovery.
Pittsburgh, PA (PRWEB) January 14, 2014
NuGo Nutrition launches NuGo Stronger, the first high protein, lower sugar sports protein bar that has all the elements that meet the sports nutrition, bodybuilding and weight management consumer demands using rBGH-Free whey protein. NuGo Stronger is lower sugar, Non-GMO, high fiber, and does not contain soy protein or artificial growth hormones. It is certified gluten-free by the Gluten-Free Certification Organization (GFCO) and OU Kosher certified by the Orthodox Union.
As the only sports protein bar to naturally surpass the competition in quality ingredients, superior taste, texture, and performance, Stronger represents the ultimate combination of flavor and function. Stronger contains 25-27 grams of high quality protein, powered by rBGH-Free whey protein. This remarkable bar leads the category in low saturated fat, with only 31% total saturated fat compared to other bars that contain 55% or higher.
Stronger is lower sugar than other 25 grams protein bars, with no maltitol or artificial sweeteners. Maltitol is a sugar alcohol that may cause gastric distress and an unpleasant aftertaste for many people. With only 9 grams of sugar, NuGo Stronger Peanut Cluster is a delectable high performance bar that delivers the quality nutrition needed to achieve serious results from workouts and recovery periods.
NuGo Stronger is available in four great-tasting flavors: Peanut Cluster, Caramel Pretzel, Cookies 'N Cream, and Real Dark Chocolate with Caramel. With a weight of 80 grams and a chewy decadent taste reminiscent of candy bars, Stronger will satisfy the demands of any athlete. Sample NuGo Stronger at the Winter Fancy Food Show booth 329 in San Francisco on January 19-21, 2014, and The Fit Expo booth 918 at the Los Angeles Convention Center on January 25-26, 2014. NuGo Nutrition will also be at the 2014 Arnold Sports Festival in Columbus, Ohio, and Natural Products Expo West booth 3879 in Anaheim on March 7-9, 2014.
Highly desirable whey protein is digested and absorbed faster than other protein sources. It goes to work quickly to help promote muscle growth and maximize muscle building potential, even after the toughest workouts. This makes it the preferred pre-workout and post-workout protein source. Whey protein may improve body composition, potentially increasing lean body mass and decreasing fat mass.
Tyler Tosunian, CrossFit coach, competitor and bodybuilder said, "I highly recommend NuGo Stronger Caramel Pretzel to all my clients, as it is the best tasting protein bar I have ever had, and the whey protein absorbs quicker resulting in better post workout recovery."
NuGo Nutrition is only company to make Real Dark Chocolate coated protein bars for many lifestyles, including numerous certified gluten-free options. While three flavors of NuGo Stronger were formulated to resist melting during outdoor sports, one flavor is coated in luscious Real Dark Chocolate. NuGo Free contains 9 grams of rice protein for those avoiding soy and dairy. NuGo Slim is the only low sugar, high protein bar without artificial sweeteners or sugar alcohols, like maltitol. The scrumptious vegan flavors of NuGo Dark provide a healthy alternative to satisfy any craving.
Order a sample pack of Stronger for $6, which includes free shipping. In addition to ordering online, NuGo protein bars are sold at retail stores nationwide and at many U.S. airports, turnpikes and other travel centers. NuGo protein bars are also available at many corporate, hospital, and college cafeterias as well as at convenience stores and gyms. Look for NuGo Stronger in stores in early spring 2014. Whether building muscle, staying toned or getting fit, NuGo Stronger is nutritionally designed to naturally support fitness and bodybuilding goals.
About NuGo Nutrition:
NuGo Nutrition's mission is to help people make better snack choices without compromising on flavor. Headquartered in Pittsburgh, PA, the company creates snacks without hydrogenated oils, trans fats, waxy vegetable fats, or high fructose corn syrup. NuGo uses top quality all-natural ingredients, like antioxidant-rich REAL dark chocolate, and created a petition to Stop Dark Chocolate Deception.
View NuGo bars at a glance to find bars for special dietary needs, including many gluten-free, vegan, and Kosher Pareve options. NuGo Nutrition makes NuGo (family nutrition), NuGo Dark (gluten-free and vegan), NuGO Free (gluten-free, vegan, and no soy), NuGO Slim (low sugar and gluten-free with two vegan flavors), and NuGO Organic (certified organic protein bar), and new NuGO Stronger. All products are certified Kosher by the Orthodox Union.
NuGo bars can be purchased in many retail locations, online, or by calling toll free 1-888-421-2032. NuGo is also available at retail locations internationally in Canada, Mexico, and Israel.