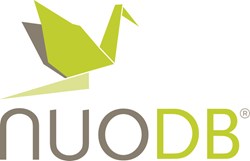 From when we downloaded NuoDB we were able to successfully migrate our MySQL database completely in a very short amount of time. - Bob Preble, VP of Engineering, Logentries
Cambridge, MA (PRWEB) July 24, 2013
NuoDB, Inc., the industry leader in NewSQL, today announced the beta program for a new migration tool for MySQL, Microsoft SQL Server, IBM DB2, PostgreSQL and Oracle RDBMS. The new tool facilitates migration from traditional database systems to the NuoDB operational database platform. The migration tool is Open Source and available for free download on the NuoDB DevCenter here or on Github.
In the past decade, the exponential growth of web-based applications, (e.g., Facebook, Twitter, etc.) coupled with the popularity of cloud computing, has put pressure on 1980s databases to scale easily while also maintaining rapid response times. This has created considerable pain for IT departments, leaving them few choices such as sharding, replication and performance tuning of their mission-critical DBMS.
The combination of the effort and expense of scaling monolithic databases has given rise to a wave of innovation in database management systems as well as a growing number of customers migrating off traditional databases. The new NuoDB tool migrates database schemas and data in an open, flexible manner to support these migration efforts.
When moving a typical single server database, NuoDB often reports 100% completeness in the migration. Completeness for migrating larger databases has been in the 80-100% range on internal NuoDB testing with customer data.
Supporting quotes
"We anticipated that we might have scaling challenges with our existing database and decided to give NuoDB a try while investigating our options. We downloaded their migration tool from Github," stated Bob Preble, VP of Engineering, Logentries, a company offering a cloud-based solution for harnessing log data and transforming it into meaningful and actionable insights for their customers.
"From when we downloaded, we were able to successfully migrate our MySQL database completely in a very short amount of time," said Preble.
"Customers are no longer tolerant of the vendor lock-in frequently associated with 1980s databases because these products do not fully meet 21st century demands," stated Barry Morris, Co-Founder and CEO of NuoDB, Inc.
"Our new migration tool eliminates the risk associated with moving a database from a traditional platform to NuoDB. Now, customers have a graceful, reliable means of migrating to a modern, high-performance, elastically scalable alternative. When making the move, customers will still benefit from the safety and familiarity of SQL and ACID guarantees of NuoDB," continued Morris.
"Database migration always takes some care," stated Adam Abrevaya, Vice President of NuoDB Engineering. "But we have engineered the NuoDB migration tool to handle the most common differences between databases. We have successfully migrated multiple DBMS including large-scale SQL Server, MySQL, Oracle and IBM DB2 schemas."
About the NuoDB Starlings release
NuoDB is a distributed database that can be deployed in any datacenter, in any cloud, anywhere, without the compromises inherent in other NewSQL solutions. The release also eliminates the need for the complex database workarounds like clustering, performance tuning and sharding that are typically associated with bringing applications to the cloud.
About NuoDB
Everyday businesses face serious challenges coping with application performance, maintaining business continuity and gaining operational intelligence in real-time.
NuoDB leads the industry with a proven NewSQL solution to solve all these challenges. It provides a unique combination of scale-out performance, zero downtime and geo-distributed data management. It's an operational DBMS to handle transactions, interactions and observations anywhere.
Launched in 2010 by industry-renowned database architect Jim Starkey and accomplished software CEO Barry Morris, the company is based in Cambridge, MA. Used by thousands of developers worldwide, NuoDB's customers include automotive after-market giant AutoZone, NorthPoint Solutions and other innovative companies.
The company is the recipient of numerous, prestigious industry awards including: Gartner Cool Vendor and The Red Herring Top 100. http://www.nuodb.com.