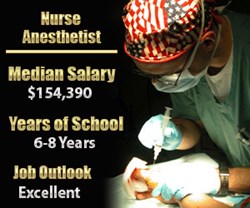 Even though the highest 10 per cent of nurse anesthetist in the United States of America earned $187,199 and the lowest earned $105,810
Columbus, Oh (PRWEB) February 14, 2014
According to Editor Elizabeth F. Hansen, the salary that a nurse anesthetist receives depends on a variety of factors, such as geographical location, population of the area where the individual lives, their practice setting, and level of experience.
"There is usually room for negotiation and this is something you will need to broach with the employers that you are considering," says Hansen.
A nurse anesthetist works with patients of all ages, from infants to the elderly. They work with the patient from the time they check in for a procedure until the time that they leave or are transferred to another area of the hospital.
"The job function also calls for the nurse to conduct preoperative interviews, the administration and maintenance of anesthesia, and the necessary post-anesthesia care that immediately follows a surgery," notes the source.
A nurse anesthetist works in a wide variety of health related environments, administers anesthesia during all types of surgical procedures, administering an epidural during childbirth, and assisting in patient stabilization during trauma care.
"Most work in hospitals of all sizes, from clinics to birthing centers, trauma centers to urgent care centers, ambulatory surgical centers to plastic surgeon's offices, even dental offices and pain management practices," says Hansen.
The nurse anesthetist sometimes work independently or with an anesthesiologist. "In rural hospitals, for example," explains Hansen, "they will often be the sole provider of anesthesia in area hospitals. Meanwhile, in major metropolitan areas, a nurse anesthetist often has independent procedures and those where he or she works with an anesthesia team."
However, this type of nurse can work independently in procedures ranging from major surgeries like open heart surgery, to more minor surgeries like knee arthroscopy.
ABOUT NURSE ANESTHETIST
Nursing anesthesia is a nursing career path with a rich history that dates back to the Civil War. It was in 1956 that this specialty became a certified and the title of certified registered nurse anesthetist was born. Nurses in this specialty have immense autonomy and often work as the sole anesthetist in a variety of surgical procedures, obstetrical conditions and trauma situations. In the United States, nurse anesthetists throughout the country provide anesthesia to an average of 32 million patients every year.
For further information regarding Nurse Anesthetist Salary, please visit the following website: http://nursing100.com.
Author Bio
JC McClain is the senior editor for Nursing100.com