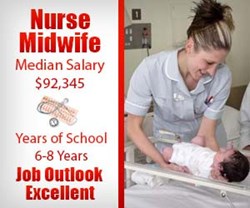 The average annual take home salary for a certified nurse midwife is $92,345, according to Nurse Midwife Salary Data published.
Columbus, Oh (PRWEB) February 17, 2014
What accounts for the disparity in salary, according to Editor Elizabeth F. Hansen, depends on the area of the country in which an individual works. "Contributing factors such as an under-served areas, as you would find in major metropolitan and rural areas, may pay higher salary due to the high demand for this type of nursing specialty," she says.
"Your level of experience, level of education, employer and job description will also greatly impact your earning power," adds Hansen, who also points to the areas of responsibilities a nurse midwife usually takes on. These can include:

Specialty and primary care for women
Management, diagnosis and treatment of chronic and acute illnesses affecting women
Interpreting medical history and conducting physical examinations
Using diagnostic procedures and testing to manage and order care
Attending to pregnancy-related issues and delivering babies
Providing care to women of all ages, including new-borns, adolescents, women in their child-bearing years and those past menopause
Prescribing medications
Educating and counseling clients
Nurse midwives, who work in a variety of settings, also provide more than just pregnancy-related care. Common environments for nurse midwives includes:

Major hospital obstetrical units
Clinics
Doctor's offices
Free and discount health clinics
Home healthcare
Ambulatory care centers
Fertility clinics
About Nurse Midwifery
Nurse midwifery goes back to the late 1800s and early 1900s. In early America, this type of nurse played a major role in the home births that were common of the time. The American Association of Nursing Midwives was officially established in 1941, making this formal nursing field. Nurse midwives provide a wide range of women's health services. They can deliver babies, but they are also able to provide almost all aspects of prenatal, perinatal and postnatal care. This type of nurse is certified and is considered an advanced practice nurse.
For further information in regards to Nurse Midwife Salary, please visit the following website: http://www.nursing100.com.
Author Bio
JC McClain is the Senior Editor for Nursing100.com.