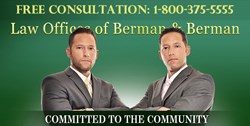 Boca Raton, FL (PRWEB) November 21, 2013
The Berman Law Group is pleased to announce an expansion of its practice as a team of nursing home abuse attorneys has joined the legal firm.
A nursing home abuse lawsuit is worth investigating if these situations are prevalent. When a loved one is in a nursing home, it is a family's expectation that he or she receives proper care, attention, available meals, and a level of compassion. Yet nursing home abuse takes place when those in charge of these loved one's care take inappropriate actions, ranging from withholding food to physical harm. There are many other areas where our nursing home abuse attorneys can investigate and dissect what is going on and get to the heart of the matter.
The nursing home abuse attorneys at the Berman Law Group are well aware of nursing home abuse to loved ones. Types of nursing home abuse are recognized as domestic violence.
When nursing home abuse situations are reported, then a nursing home abuse lawsuit could be a next step. Loved ones look to others for support and care in their later years of life. The Berman Law Group believes they, too, deserve justice when these situations take place.
For more information on the nursing home abuse attorneys with the Berman Law Group, visit our website at http://thebermanlawgroup.com or call (800) 375-5555 for an appointment.