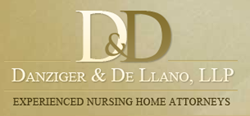 We will work to get compensation for you and punishment for the wrongdoers
Houston, TX (PRWEB) January 17, 2014
Danziger & De Llano, LLP, a group of lawyers committed to helping Florida and Texas businesses and individuals achieve justice, recently announced the addition of several new pages to its website. The supplementary pages discuss the problems that occur in nursing homes and explains the benefits of hiring a nursing home attorney.
Although nursing homes can be an excellent service to people with aging relatives, at times, they can be uninterested in providing the kind of services that they advertise. As one of the webpages explains, elderly nursing home patients are often victimized at the hands of uneducated, overworked, underpaid, and unfamiliar staff. Failing to pay attention to frail and elderly patients can result in a host of complications such as malnourishment, bedsores, infections, broken bones, or even wrongful death.
The abuse, malpractice, and negligence that occur in nursing homes are illegal and can be disputed in court. With the help of an experienced nursing home attorney, victims of abuse and neglect can receive justice. Danziger & De Llano, LLP has represented many victims of elder abuse and their families for years.
"Whether you simply have suspicions or concerns about what is going on with your loved one, or if the worst has happened and the nursing home's negligence or abuse resulted in the wrongful death of someone you care about, we will treat you with compassion while aggressively pursuing those who have caused your pain," noted an article on Danziger & De Llano, LLP's website.
"We will work to get compensation for you and punishment for the wrongdoers."
Individuals interested in learning more about Danziger & De Llano Law Firm and its work can visit the firm's website for more information. Customers can also subscribe to Danziger & De Llano Law Firm's Google+, Facebook, and Twitter accounts for frequent updates from the company.
About Danziger & De Llano, LLP:
Danziger & De Llano, LLP is a law firm dedicated to helping businesses, individuals, and their families. The firm is committed to providing its clients with superior client service and personal attention. When Danziger & De Llano, LLP accepts a case, it assigns a team of professionals including attorneys, legal assistants and support staff to guide the client through the legal process. Danziger & De Llano, LLP is devoted to ensuring that each client obtains full and just compensation for all of their injuries. For more information, please visit http://www.nursinghomelawfirm.org