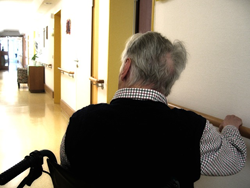 We urgently need strategies to address this under-recognized problem, which affects fully one-fifth of all residents, erodes their quality of life, and is stressful for staff to manage.
(PRWEB) December 09, 2014
Nursing home abuse is a huge problem, and one that worries the families of seniors who are no longer able to live at home. At Rasansky Law Firm, we deal with cases of elder abuse almost daily. While abuse by nursing home staff is obviously a big concern, a recent study by Weill Cornell Medical College also points out the prevalence of abuse between fellow residents.
Facts and Statistics
It's no secret that nursing home abuse is a serious problem in America. In this published study, it became apparent that there was also a serious problem with nursing home abuse between residents. Out of a total of ten nursing homes that were studied, 19.8 percent of the residents were affected by abuse within a four-week period. The breakdown is as follows (keep in mind some residents were involved in more than one of these events):

16% were subjected to verbal abuse such as yelling, cursing, or screaming.
5.7% suffered from physical attacks including biting, hitting, or kicking.
1.3% reported sexual abuse such as touching, an attempt to gain sexual favors, or indecent exposure.
10.5% reported unwanted entry into their room or someone going through their possessions.
This is the first study that has actually reviewed the problem of negative aggression between residents of U.S. nursing homes. It discovered that nearly twenty percent of these nursing home residents were involved in one or more of these volatile situations within a four-week period.
The results of the study were revealed at the annual meeting of the Gerontological Society of America on November 4th, 2014. They provide new information concerning the lives of nearly 1.4 million US nursing home residents.
Evaluating the Results
"Clearly, abuse between residents is a valid concern that, unfortunately, many people do not consider when evaluating nursing homes," said attorney Jeff Rasansky. "When seeking out an assisted living facility for a loved one, it's important to discuss resident-on-resident abuse and find out what measures are in place to act upon (and prevent) this type of abuse."
The team at Cornell reviewed a total of 2,011 individuals at ten different nursing homes. They used a variety of methods in order to assess the extent of the mistreatment which resulted in the most detailed assessment of this problem that has ever existed.
An important aspect of the study was the way researchers created a profile of the residents who are most likely to be involved in resident-to-resident abuse. The following factors were found to increase this likelihood:
Individuals in close living conditions (those who share housing, for example).
Crowded conditions.
Continual conflicts between roommates.
Ratio of staff members to residents—higher numbers tend to add to the problem.
The National Center on Elder Abuse is beginning to put together a formula for tracking the problem after 20 years of research. This is the first step toward finding a solution to the problem and providing assistance in those situations that are the most serious.
This article is presented by the Dallas, Texas nursing home abuse attorneys at Rasansky Law Firm. For inquiries, call 214-651-6100 or visit http://www.jrlawfirm.com/.