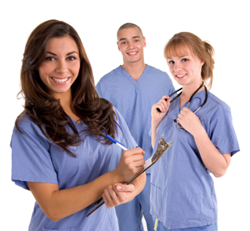 We are urging students to send in more submissions for a chance to win a $1,500 scholarship. Who knows, we may even declare another early winner
Los Angeles, CA (PRWEB) September 29, 2014
NursingProgramsHelp.com, a website that offers in-depth and helpful information about nursing programs and nursing schools in the United States, is proud to announce the name of its first scholarship winner. Kelly Walker, who is pursuing an RN program at Niagara County Community College, will be awarded $1,500.
As a spokesperson for NursingProgramsHelp.com explained, the website recently launched a $1,500 nursing scholarship program. The original plan was to announce the first winner on January 20, 2015, and the deadline for submissions was January 10, 2015.
"After reading one of the submissions, we had to declare an early winner for the scholarship," the spokesperson said, adding that Walker's story moved the judges so much, they decided to give her the money now and not make her wait until early next year.
"Nothing changes for the existing scholarship though, as we are just going to announce another winner for $1,500 on January 20, 2015. We are urging students to send in more submissions for a chance to win a $1,500 scholarship. Who knows, we may even declare another early winner."
For people who have dreamed of becoming a nurse, NursingProgramsHelp.com is a one-stop nursing school shop. In addition to offering information about online nursing programs, it also features articles that help explain what it takes to earn the different types of nursing degrees.
And now, thanks to the scholarship program, people who want to become a nurse have the chance to enter their story for a chance to win the $1,500. As the spokesperson explained, people just need to write a 150 to 200-word essay around the theme "My Journey to Becoming a Nurse."
Although 200 words might not seem like a lot, the spokesperson said it definitely gives the judges enough information about each entrant, as well as allows them to read through all of the submissions in timely fashion. Those who wish to submit an essay should be sure to write it in English, and proofread it first to be sure it's free of typos of grammatical errors.
"All of the information submitted for the scholarship should be accurate and honest," the spokesperson said, adding that right now, photos, video and audio recordings are also accepted as part of the scholarship admission.
About NursingProgramsHelp.com:
NursingProgramsHelp.com helps potential nursing students find information on various nursing careers they can pursue in including list of universities in their U.S. state for that particular program, salary information, exam guides, requirements and general overview about the programs. For more information, please visit http://www.nursingprogramshelp.com/