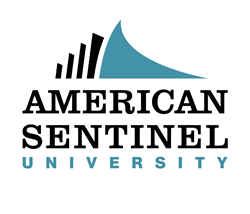 "If a nurse wants to remain competitive, they should earn an advanced degree as the BSN is the new minimum with today's employers."
AURORA, Colo. (PRWEB) December 01, 2014
American Sentinel University, an accredited online university, announced an improvement to their baccalaureate and graduate nursing programs. Available now, the RN to BSN/MSN program makes it possible for students to take graduate-level courses while completing a Bachelor of Science in Nursing (BSN) degree, which streamlines the path to earning a Master of Science Nursing (MSN) degree. This program replaces the formerly offered RN to MSN degree program.
Accredited by the Commission on Collegiate Nursing Education (CCNE), the RN to BSN/MSN program is ideal for nurses who want to expand their skillset, gain greater career stability and stay on the cutting edge of healthcare.
"The healthcare industry holds education and credentials in the highest regard as part of its culture. Most hospitals expect RNs to earn advanced nursing degrees so they can make better decisions that positively impact the bottom line and improve patient outcomes," says Elaine Foster, Ph.D., MSN, RN, associate dean, nursing programs at American Sentinel University. "If a nurse wants to remain competitive, they should earn an advanced degree as the BSN is the new minimum with today's employers."
Program Offers Competitive Advantage
The combined 57 credit hour RN to BSN/MSN program is a faster path to earning an advanced degree needed to stay competitive in today's job market. The BSN degree is awarded to students midway through the program and the MSN degree is awarded to students upon completion of the program.
The curriculum follows the Quality and Safety Education for Nurses (QSEN) model, which focuses on six core competencies:
-Patient centered care
-Teamwork and collaboration
-Evidence-based practice
-Quality improvement
-Informatics
-Safety
Graduates of the RN to BSN/MSN nursing degree program will be able to:
-Assume roles as leaders and collaborators with other professionals and communities in planning, providing and evaluating health care.
-Enhance professional nursing practice through research and evidence-based practice.
-Use theoretical knowledge to guide advanced practice nursing.
-Conduct advanced practice research and leverage insights.
-Create new nursing models that expand the role of citizens in global society.
-Evaluate health policies and economics.
Enrollment Now Open
American Sentinel University is now accepting applications for the RN to BSN/MSN program. For more information, please visit http://www.americansentinel.edu/nursing/rn-to-m-s-nursing call 1.866.922.5690 or email the American Sentinel admissions team at admissions(AT)americansentinel.edu
About American Sentinel University
American Sentinel University delivers the competitive advantages of accredited online degree programs in nursing, informatics, MBA Health Care, DNP Executive Leadership and DNP Educational Leadership. Its affordable, flexible bachelor's and master's nursing degree programs are accredited by the Commission for the Collegiate Nursing Education (CCNE), of One Dupont Circle, NW Suite 530, Washington, D.C., 20036. The DNP program is accredited by the Accreditation Commission for Education in Nursing (ACEN) of 3343 Peachtree Road NE, Suite 850, Atlanta, Ga., 30326. The university is accredited by the Distance Education and Training Council (DETC), of 1601 18th St., NW, Suite 2, Washington, D.C. 20009. The Accrediting Commission of DETC is listed by the U.S. Department of Education as a nationally recognized accrediting agency and is a recognized member of the Council for Higher Education Accreditation. For required student consumer information, please visit: http://www.americansentinel.edu/doe
# # #