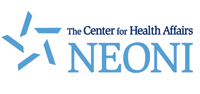 During our nursing poster presentation, we had the opportunity to get in front of students and faculty in the same location.
Cleveland, Ohio (PRWEB) May 14, 2014
Members of The Center for Health Affairs' workforce initiative, NEONI, recently presented a nursing poster presentation at Kent State University's "Driving the Future" conference.
The nursing poster presentation, presented by NEONI members Hope Moon, MSN, RN, CNS, dean of allied health and nursing, Lorain County Community College and Patricia Sharpnack, DNP, RN, CNE, NEA-BC, associate dean of undergraduate nursing and associate professor, Ursuline College, as well as Pam Waite, MSN, RN-BC, MHSA, director of healthcare workforce and NEONI operations, The Center for Health Affairs, shared the process and outcome of the Nursing Practice-Gap Pilot Project.
The Nursing Practice-Gap Pilot Project, undertaken by the NEONI Education Committee, was created to address and close the gap between graduate nurse competences and expectations of the healthcare system.
"During our nursing poster presentation, we had the opportunity to get in front of students and faculty in the same location," Waite said. "It was eye-opening to them when we shared certain parts of the project, such as some of our findings after evaluating graduate preparedness in Northeast Ohio through NEONI's New Graduate Performance Survey."
One finding the survey revealed was that preceptors have very little education in the area of effective teaching and preceptorship. During the Nursing Practice-Gap Pilot Project, NEONI worked to develop a preceptor educational program to promote acquisition of skills identified as weak in the survey, as well as provide access to an online general preceptor education program.
"It was valuable to share some of our project efforts with an audience who is directly affected by the nursing gap in Northeast Ohio," Waite said.
"Driving the Future" is a national conference series created by Kent State's College of Nursing in 2007 to facilitate discussion among nurses and other healthcare and business professionals. This year's conference focused on education and practice gaps as well as quality and safety competency.
For more information on NEONI's nursing poster presentation or the Practice-Gap Project, contact Pam Waite at 216.255.3650 or via email.
###
As the leading advocate for Northeast Ohio hospitals, The Center for Health Affairs provides members with vital services and resources aimed at enhancing the region's healthcare community. The Center delivers on this goal by focusing its efforts on areas that benefit from a regional approach: Healthcare Workforce; Emergency Preparedness; Public Policy & Advocacy; Finance & Reimbursement; and Community Initiatives. With a rich history as the Northeast Ohio hospital association, dating back to 1916, The Center serves as the collective voice of hospitals and the source for Northeast Ohio hospital and healthcare information. As leaders, we continuously scan the periphery, looking for opportunities to enhance the region's workforce, better prepare our hospitals for an emergency, and increase the region's wage index. And because of our business affiliation with CHAMPS Healthcare, we have the resources to provide a broad level of professional services to our members. The Center, located in downtown Cleveland, is proud to advocate on behalf of 38 acute-care hospitals and two long-term acute-care hospitals in six counties. For more, visit chanet.org.