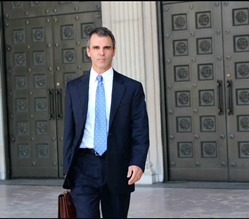 "Residents die of dehydration when their care providers neglect providing the most fundamental bodily need--that of being given water on a regular basis."
PHILADELPHIA (PRWEB) October 29, 2019
Our bodies need water to function. Without water, dehydration occurs. The initial dehydration symptoms are fatigue, foggy memory, and irritability. Severe dehydration can lead to death. When a person is cared for at a nursing home, hospital, or assisted living facility, and their caretakers neglect to hydrate the individual, severe dehydration can occur, which can lead to a wrongful death case.
Philadelphia nursing home neglect lawyer, Brian P. Murphy, handles New Jersey and Pennsylvania wrongful death cases, including those stemming from dehydration. In a recent wrongful death case (Case #2017-10292, Montgomery County Court of Common Pleas), Mr. Murphy was able to show that the nursing home facility neglected to provide the most fundamental needs, including providing the resident with water over the course of several days. This negligence ultimately led to medical complications that resulted in the man's death.
Allowing assisted care, hospital, or nursing home residents to become dehydrated is a form of neglect. By state and federal laws, New Jersey and Pennsylvania care facilities are required to provide their residents with sufficient liquids to prevent dehydration and can be held accountable if they do not comply.
Dehydration cases in the elderly are extremely dangerous. Because of their delicate and fragile state, the elderly are even more vulnerable to suffering from dehydration. Brian P. Murphy is an advocate for the elderly and skilled in handling care facility lawsuits that deal with neglect and abuse.
In addition to wrongful death caused by dehydration, Mr. Murphy litigates nursing home lawsuits including, but not limited to, the following categories:

Elder Abuse
Elopement
Falls/Fractures
Infections
Malnutrition
Medication Errors
Nursing Home Injuries
Bed Sores (aka, Pressure Ulcers or Pressure Sores)
Poor Hygiene
False Charting
Wrongful Death
And other causes of Neglect and/or Abuse
Nursing Home Neglect Lawyer, Brian P. Murphy, offers Free Consultations to individuals who suspect abuse or neglect. All cases are handled on a contingency fee basis, which means that there are no upfront fees, and you will not be charged until the case settles, at which time Mr. Murphy will be reimbursed for his costs and legal fees.
Contact the Attorney
For more information about dehydration, wrongful death, NJ/PA nursing home neglect lawyer Brian Murphy, or to schedule a free consultation, please contact the attorney.
Press release writing by WebSiteText.com | Proofreading by TheProofreaders.com