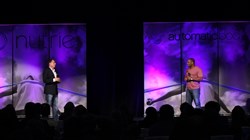 The Nutrie events are a total blast! You learn so much and leave feeling incredibly inspired and motivated. It's truly life changing.-- Kim Lyons
Scottsdale, Arizona (PRWEB) September 27, 2013
On September 20th and 21st, more than five hundred people joined the Nutrie leadership team at the Hyatt Regency Chicago O'Hare for two days of intense training, followed by an exclusive, top producers recognition party on September 22nd at Wrigley Field Rooftops.
Celebrity fitness trainer Kim Lyons, along with UFC Contender Daniel Cormier, led a large and enthusiastic group of early risers on Saturday morning for the Chicago 2013 Celebrity Workout. Participants were led through the paces of a fun and challenging workout, charging them up for the main event.
The full day training featured: instruction on cutting-edge health and wellness strategies, a thorough breakdown of the product's ingredients and their benefits, the launch of innovative marketing tools designed to build a successful Nutrie business, the introduction of 2-for-1 product specials to help increase the speed of new customer acquisitions, the recognition of top ranking performers in the Nutrie business, and in-depth details on the home mortgage program, where Nutrie pays a portion of a high ranking Brand Partner's mortgage or rent. The company also announced the start of the Nutrie Smart Car contest, which one top producer will be driving away with in early 2014.
Following the Saturday main event, VIP guests had the chance to personally meet and greet Kim Lyons and UFC Contender Daniel Cormier in an exclusive roped-off lounge in the Hyatt O'Hare lobby. On Sunday afternoon, the private rooftop affair was held at Wrigley Field for a gathering of Nutrie's top producers as they watched the Atlanta Braves defeat the Chicago Cubs, clinching a playoff birth in one of the Cubs' last games of the season.
Follow the conversation at #NutrieChicago
To learn more about the Nutrie Training Events in your area, click here.
Learn more about Nutrie at http://www.nutrie.com
About Nutrie
Founded in 2012 with headquarters in Scottsdale, Arizona, Nutrie is a health and wellness company that develops and markets products and programs for consumers to meet their health goals. The company is privately held.