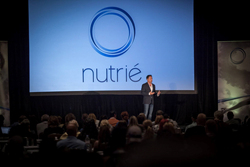 You all celebrated with us through every success, while lifting us up when we needed help. Winning Nutrie's Transformation was no different. - Sandra Serrano
Scottsdale, Arizona (PRWEB) June 09, 2014
Attendees, many with their families, started arriving as early as May 27th for the Nutrie Homecoming May 30th – June 1st event, in order to take advantage of the amazing facilities at the Arizona Grand Resort & Spa. Nutrie Brand Partners, customers and guests came from all across North America for the three action packed days of intense training sessions along with a little R&R.
Memorable moments from the Nutrie Homecoming included a Celebrity Fitness Workout led by fitness trainer Kim Lyons of "The Biggest Loser" and "The Dr. Oz Show", with special guests MMA stars Daniel Cormier, Marlon Moraes, and Sheldon Westcott along with former pro hockey player Tyson Nash and CrossFit trainer extraordinaire Bruno Guevremont. Saturday night's pool side White Party was a huge hit with the select few who had qualified to attend and there was even enough time to socialize by the pools and get in a round of golf for some.
Automatic Body by Nutrie made a major announcement introducing the newest version of it's industry leading Mobile App as well as the updated website. The site now offers an overall simpler and cleaner customer experience. And then there was the big giveaway - high levels of excitement could be felt in the 20,000 sq ft venue as the top ten finalists took the stage to learn who would win the $35,000 in prizes being given away in the Ultimate Automatic Body Transformation Contest. Grand prize winner Sandra Serrano walked away with $20,000 in hand. Be sure to check out all the winners on the Automatic Body Facebook Page.
The main focus of the weekend was on cutting-edge health and wellness strategies, a thorough break down of Nutrie's products and their benefits by Dr. Nicole Dahl, and overviews of the innovative marketing tools Nutrie has designed to help Brand Partners build a successful business.
About Automatic Body and Nutrie:
Automatic Body is the first program of its kind. It combines a simple, easy-to-follow program that syncs with your iPhone or Android device and tells you when to do something and how to do it. You just plug it in and let things happen, automatically.
Founded in 2012 with headquarters in Scottsdale, Arizona, Nutrie is a health and wellness company that develops and markets products and programs for consumers to meet their health goals. The company is privately held.
The weight loss results and other health related experiences are not typical, are self-reported, and are applicable only to the individual(s) and do not reflect the results that a customer may achieve. For optimal results, products are recommended for use in conjunction with the Automatic Body program.
Please see Nutrié¹s Health Disclaimer located here for more details.