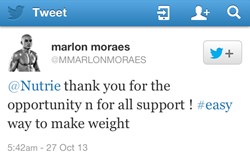 @nutrie thank you for the opportunity n for all support! #easy way to make weight.- Marlon Moraes
Orlando, FL (PRWEB) October 30, 2013
The WSOF co-main event on the NBC Sports Network main card, saw Beebe come out the gate very aggressively, which played right into the fists of Moraes and garnered him a TKO. With his sixth straight win against a formidable MMA opponent, Marlon Moraes is proving to be a true champion.
The 25-year-old Moraes credits making his bantamweight weigh-in in part to the amazing products that Nutrie has developed. The day after Marlon's victory, @MMARLONMORAES tweeted "@nutrie thank you for the opportunity n for all support! #easy way to make weight".
Get started with Nutrie today - CLICK HERE.
About Nutrie & Automatic Body:
Founded in 2012 with headquarters in Scottsdale, Arizona, Nutrie is a health and wellness company that develops and markets products and programs for consumers to meet their health goals. The company is privately held.
Automatic Body is the first program of its kind. It combines a simple, easy-to-follow program that syncs with your iPhone or Android device and tells you when to do something and how to do it. You just plug it in and let things happen, automatically.
The weight loss results and other health related experiences are not typical, are self-reported, and are applicable only to the individual(s) and do not reflect the results that a customer may achieve. For optimal results, products are recommended for use in conjunction with the Automatic Body program.
Please see Nutrie¹s Health Disclaimer located here for more details.