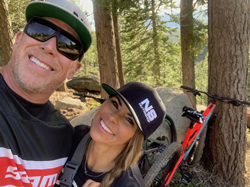 "Nutrishop does not charge monthly royalty or marketing fees. This can cost other franchise owners 9% (and sometimes more) of their total gross sales revenues per month. We put that back in our franchisee's pocket." – Bryon McLendon, Nutrishop founder
INCLINE VILLAGE, Nev. (PRWEB) July 25, 2019
Remember the days when folks would work the same job for 30 years, pay off their home, enjoy benefits, and retire with a healthy pension? Those days are long gone especially for millennials, who have grown up "at will hire and fire" and "commission only" when it comes to employment. In this economy, employment does not equal benefits, retirement plan, steady income, or job stability.
As many jobs go by the wayside, brick and mortar franchises are emerging. One such franchise is NUTRISHOP™ (http://www.nutrishopusa.com), a retail nutrition franchise with nearly 200 locations. In 2008 when the financial crash witnessed many losing their homes and jobs, the nutrition industry experienced an increase in growth – an indication that, in good times and bad, people want to be healthy.
Nutrishop founders Bryon and Tania McLendon took the franchise model one step further by becoming a "no royalty" franchise and then some. As Bryon explained, "Many franchisors charge their franchisees monthly royalty fees each month, typically based on gross sales volume. It's usually around 6% of total gross sales volume, not gross profit. Nutrishop does not charge royalty fees. Also, many franchisors charge their franchisees a monthly marketing fee of around 3%, again based on total gross sales. Nutrishop does not charge monthly marketing fees. That's 9% of total gross sales volume staying in the pockets of our franchisees.
The supplement industry offers an incredible franchise opportunity. Americans spent more than $40 billion on supplements last year. According to the Nutrition Business Journal (NBJ), the leading market authority on dietary supplements and other natural products, the nutritional supplement industry is projected to top $60 billion by 2021.
Among those enjoying a stable lifestyle through a royalty franchise is Jay Vicino of Mt. Juliet, Tennessee, " When I graduated college I ended up working a desk job, crunching numbers, unfulfilled. When I opened my Nutrishop location I was able to bridge the gap of being my own boss with being able to help others live a healthier lifestyle. I have been blessed to experience an overwhelming amount of growth over the years that has allowed me to give my family a lot of luxuries I couldn't afford growing up."
Nutrishop and its founders Bryon and Tania McLendon have over 20 years' experience in the sports nutrition, vitamin, weight-loss, and wellness retail industry. They continuously and thoroughly study the trends and competition variables of this industry to stay ahead of the game. They have developed an extensive network with leading supplement companies, manufacturers and distributors. According to Bryon "We are confident that NUTRISHOP® stores maintain an edge over the competition. That makes us very proud".
According to the U.S. Food & Drug Administration, three out of every four Americans regularly take a supplement. Consumer demand for quality products that won't break the bank is at an all-time high. NUTRISHOP® meets that need with its premium, cutting-edge dietary and nutritional supplements combined with meal plans, body assessment tools, and a customer-first attitude.
NUTRISHOP® aspires to reach 300 stores in the next 5 years and is accepting new store applications at Online Application https://www.nutrishopusa.com/open-nutrishop/application.
About Nutrishop
Approaching 200 locations, NUTRISHOP® (http://www.nutrishopusa.com) stores offer customers a low-price guarantee on a broad spectrum of top quality, cutting-edge dietary and nutritional supplements along with exceptional, individualized customer service. NUTRISHOP® understands the importance of assisting customers in making a lifestyle change. This is centered on the idea of helping people become the best version of themselves. The NUTRISHOP® business model focuses primarily on franchisee-operated stores providing consumers with the necessities to help them achieve their fitness goals.