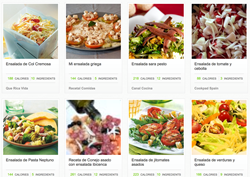 We aim to be the engine powering nutrition solutions for any business in the food, health and wellness sectors.
New York, NY (PRWEB) December 02, 2016
Edamam, a technology company disrupting the nutrition data space launched its unique data-as-a-service solutions for Nutrition Analysis and Meal Recommendations in Spanish. The new language service will extend Edamam's unique rich, value-added data solutions to businesses in Spain, South and Central America, and add to the company's reach within the United States.
The company's Nutrition Analysis API is built on top of a proprietary natural language processing technology that now can process Spanish, as well as English. The localized Meal Recommendation API uses as a base a set of 200,000 original Spanish language recipes that have been already nutritionally analyzed and tagged for all major diets, allergens and common health conditions.
"We have heard from a number of multinational clients that availability of our service in other languages will be a key requirement and we focused on Spanish as the most requested language. Nestle, Random House and Telefonica are but a few of the companies we are already engaged in conversation with for our Spanish language offer," shared Victor Penev, Edamam's CEO and Founder.
Edamam will be looking to develop its nutrition data services next to Chinese, German and French, provided sufficient customer demand.
"We aim to be the engine powering nutrition solutions for any business, regardless of geography or language," added Victor Penev.
About Edamam
Edamam organizes the world's food knowledge and provides nutrition data services and value-added solutions to health, wellness and food businesses. Using a proprietary semantic technology platform, it delivers real-time nutrition analysis and diet recommendations via APIs. Edamam's technology helps customers answer for their clients the perennial question: "What should I eat?"
Edamam's partners and clients include General Mills, Nestle, Conde Nast, Random House, The New York Times, and Samsung.
For more information, please visit http://www.edamam.com or developer.edamam.com.