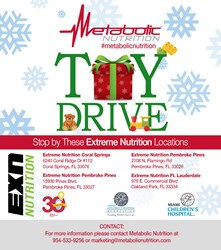 I am proud of the example that we continue to set in terms of our charitable endeavors and achieving excellence and integrity within our industry.
Sunrise, FL (PRWEB) December 18, 2013
IQ Formulations encourages South Florida residents to help spread holiday cheer this season by participating in the final week of its annual toy drive to benefit Miami Children's Hospital and Children's Miracle Network Hospitals. Organized in partnership with Extreme Nutrition, all toys collected will be provided to young hospital patients and their families. New, unwrapped toy donations of all sizes and prices are welcome, and may be dropped off through Thursday, December 19 at the South Florida Extreme Nutrition locations listed below.
The parent company of Metabolic Nutrition, which was founded in Miami more than 25 year ago, IQ Formulations of Sunrise is a well-respected leader in the health and nutritional supplement industry. With a commitment to superior quality products and outstanding customer service, the company serves top athletes, as well as a variety of health-minded consumers.
IQ Formulations has also built a reputation for generosity through its years of ongoing community service initiatives. In addition to this holiday toy drive which has been underway for months, IQ Formulations will be providing toys to the Children's Diagnostic & Treatment Center in Fort Lauderdale as well.
Earlier this year, IQ Formulations and Metabolic Nutrition participated in a fundraiser for local 2-year-old Delilah, who is in need of an intestinal transplant. For years, the company has donated to St. Jude Children's Hospital, the American Red Cross, Wounded Warrior Project, ASPCA, Cystic Fibrosis Foundation, local VA hospitals and other Veterans of America organizations.
IQ Formulations also contributed to a campaign sponsored by TigerFitness.com to support Isla, a young girl fighting Cystic Fibrosis. TigerFitness.com was so grateful for IQ Formulations' generous donation that it created and posted a YouTube video thanking the company.
"IQ Formulations holds itself to a higher standard with a tireless dedication to our customers and the local community that surrounds and supports us," said IQ Formulations CEO Jay Cohen. "We are committed to collecting as many toys as possible in this year's annual toy drive to help bring smiles to the faces of as many kids as we can this holiday season. Giving back is part of what defines us as a company, and I am proud of the example that we continue to set in terms of our charitable endeavors and achieving excellence and integrity within our industry."
New, unwrapped toy donations can be dropped off through the end of the day on Thursday, December 19 at six convenient South Florida locations:
Extreme Nutrition Coral Springs
6240 Coral Ridge Dr #112
Coral Springs, FL 33076
Extreme Nutrition Boynton Beach
2288 N. Congress Ave
Boynton Beach, FL 33426
Extreme Nutrition Pembroke Pines
15930 Pines Blvd.
Pembroke Pines, FL 33027
Extreme Nutrition Pembroke Pines
2108 N. Flamingo Rd
Pembroke Pines, FL 33028
Extreme Nutrition Ft. Lauderdale
979 E. Commercial Blvd
Oakland Park, FL 33334
Extreme Nutrition Boca Raton
20449 State Rd. 7
Boca Raton, FL 33498
About Metabolic Nutrition
Metabolic Nutrition's commitment to manufacturing and delivering superior quality, uncompromising results, great taste and high-quality supplements has made it an industry innovator in sports nutrition. For more than 25 years, Metabolic Nutrition has continued to provide top athletes as well as health-minded consumers with the quality and results they demand. For more information, please call 1-888-626-1022 or visit http://www.metabolicnutrition.com or https://www.facebook.com/metabolicnutrition.