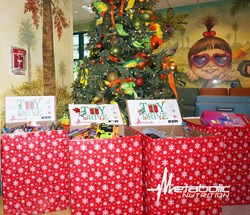 It is truly a privilege to be at a company that values the importance of giving back.
Sunrise, FL (PRWEB) December 23, 2013
South Florida-based Metabolic Nutrition today announced the tremendous success of its annual holiday toy drive, which provided more than 500 gifts to patients of Miami Children's Hospital and their families. After months of collecting donations in partnership with Extreme Nutrition, the staff of Metabolic Nutrition personally delivered more than $2,500 worth of toys to the hospital on Friday.
"Metabolic Nutrition would like to sincerely thank all the generous contributors and our wonderful partner Extreme Nutrition for helping make this year's toy drive such an incredible success," said Metabolic Nutrition CEO Jay Cohen. "It's amazing to see how many lives we have been able to impact with this initiative." Cohen added: "For decades Metabolic Nutrition has demonstrated its dedication to supporting charitable organizations and the local community, and we will continue that commitment for years to come."
Metabolic Nutrition has been active in the South Florida area for more than 25 years. Renowned for its commitment to servicing customers and providing top-quality products, the company continually seeks to elevate the standards for professionalism and ethics in the nutritional supplement industry.
In addition to its toy drive, this holiday season the company made sizeable donations to deserving charities including the ASPCA, Wounded Warrior Project, The Salvation Army, St. Jude Children's Hospital, and the Cystic Fibrosis Foundation. Larger-than-life mascot Metabolic Man signed large-scale copies of the checks, which can be seen on the company's website.
Metabolic Nutrition also wrapped up an additional toy drive in Southern California last week. Roughly 300 donations were gathered through the program and provided to various charities in the area including Children's Hospital Los Angeles, Santa Monica Police Activities League and the Boys & Girls Club of Santa Monica.
"It is truly a privilege to be at a company that values the importance of giving back," said Metabolic Nutrition VP of Marketing Joseph Buitrago. "I feel extremely fortunate to work at a place like Metabolic Nutrition, which not only goes above and beyond for its employees and customers, but also for the community that surrounds us."
About Metabolic Nutrition
Metabolic Nutrition's commitment to manufacturing and delivering superior quality, uncompromising results, great taste and high-quality supplements has made it an industry innovator in sports nutrition. For more than 25 years, Metabolic Nutrition has continued to provide top athletes as well as health-minded consumers with the quality and results they demand. For more information, please call 1-888-626-1022 or visit http://www.metabolicnutrition.com or https://www.facebook.com/metabolicnutrition.