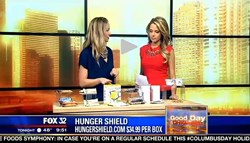 Probiotics, fiber and protein...if I am shopping or hiking and I don't want to break down and eat junk.
Chicago, IL (PRWEB) October 17, 2013
On Monday morning, October 14th, Good Day Chicago viewers watched as nutrition expert Leandra Rose presented her favorite pre- and post-workout snack products. HungerShield appetite control was featured as an all natural and convenient solution.
"The reason I love it is pure and simple -- probiotics, fiber and protein," says Rose. "This is something I keep in my purse all the time, if I am shopping or hiking and I don't want to break down and eat junk...I can mix with water and ready to go. Very simple, very natural." HungerShield was featured along with other products such as Greek yogurt and LUNA bars. Click here to view the video clip.
About HungerShield
HungerShield is an innovative appetite control drink mix created by four registered dietitians, Elizabeth DeRobertis MS, RD, CDN, CDE, Heather Zeitz RD, CDN, Elizabeth Pecoraro MS, RD, CDN and Dafna Chazin MS, RD, CDN. HungerShield is the only product on the market designed specifically to curb appetite through a unique blend of high quality and natural ingredients, including protein, fiber and probiotics. It is also the only product in this category that was created by healthcare professionals and can work with any diet plan on the market. For more information about the product, a list of locations where HungerShield is sold, or to purchase the product online, please visit http://www.hungershield.com. You can follow HungerShield on Twitter @HungerShield and on Facebook.