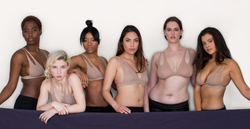 Nuudii is radical innovation for boobs!
NEW YORK (PRWEB) June 11, 2019
Today Nuu Collective launched a crowdfunding campaign for Nuudii System, which is not a bra, but provides subtle lift that hugs the natural shape of the breasts to make the wearer look and feel as close to natural as possible. It creates a new market for breasts, and is now available for the early bird price of $39 ($49 retail) on Kickstarter.
Nuudii System was developed to address a white space that exists between bras and going braless. Its featherlight technology hugs a woman's natural shape with supreme comfort, while offering maximum versatility for all lifestyles and clothing choices.
"We created Nuudii System as a way for women to have boob freedom and embrace their own natural shapes so they no longer have to alter their breasts to fit into some cultural construct of what they think we should look like," said Nuu Collective founder, Annette Azan. "Nuudii is radical innovation for boobs!"
Nuudii System's sheer, flexible fabric is ultra-comfortable, makes breasts feel weightless and maintains their natural shape. The garment adapts to a woman's changing size that naturally occurs with weight fluctuations, hormonal changes, and more. It is available in three sizes--small, medium and large--which fit band sizes 30-38 and cup sizes of A to DD, with more sizes under development. No fittings are required.
The idea for Nuudii System was born when Annette Azan couldn't find anything to wear underneath her silk, skin-baring wedding dress, she decided to design something herself. The result was something that was completely new, that hugged her skin and gave a subtle lift and which disappeared under her dress. She loved the natural look and feel and, having worked as a fashion executive in both the US and European marketplaces for 25 years, knew she was onto something that women would be eager for. Azan partnered with Rebecca Zuber-Sherr, a senior fashion exec who has worked with brands like Victoria's Secret, Calvin Klein, and Lululemon, to create bring the product to life.
Both Azan and Zuber-Sherr are passionate about empowering women to love their natural shape and find comfort and freedom. Alongside their skilled technical designer, the Nuudii team has worked tirelessly for three years to develop hundreds of prototypes of Nuudii System. Over five hundred women ages 16-94 have trial tested and worn Nuudii System, bringing the design to where it is today.
"We are offering a fresh, powerful approach to living and loving our bodies," said Nuudii System founder Rebecca Zuber. "Now, we can't wait to share it with women around the world through our Kickstarter campaign."
The design includes versatile double straps that stretch over the wearer's head with no attachments it's a one piece technology to creating countless unique looks. Three available shades include Nuu Light, Nuu Brownz, and Nuu Black. At 0.5oz, Nuudii System is light and easily folds into a compact 3" x 3" package. The design is durable, hand-wash or machine wash, and dries quickly.
The estimated delivery date of Nuudii System is October 2019. For more information about the pledge levels, please visit the Kickstarter campaign. Media wishing to interview their personnel should contact PR agent, Allison Aitken at allison(at)properpropaganda.net.