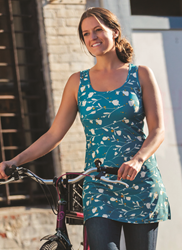 "When a woman is comfortable and feels good about herself, she is more willing to experience the world. And that's why we do what we do."
Bellingham, WA (PRWEB) November 12, 2015
Just in time for the holidays, Nuu-Muu - maker of the original "exercise-and-everything-else" dress - revealed its latest figure-flattering style, the lower-neckline SCOOP dress. Staying true to its mission to inspire as many women as possible, Nuu-Muu also announced an additional 3XL (20-22) size offering for the SCOOP and future product releases.
The SCOOP dress is Nuu-Muu's latest in a line of thoughtfully designed garments that bridge the gap between the athletic and leisure markets, truly earning the designation "athleisure." The SCOOP features a brand new scooped neckline that flatters a wide range of body types and retains Nuu-Muu's classic and comfortable A-line shape, excellent moisture-wicking qualities, and delicious-to-touch fabric.
"We are incredibly grateful for our passionate customers who enthusiastically requested an alternate neckline. We're always listening and trying to provide our fans with the products they want, and we're thrilled to offer another wonderful way to get dressed," said owner and founder, Christine Nienstedt.
Nuu-Muu utilizes a fun sizing nomenclature that reflects the company's appreciation for all sizes and shapes. Nuu-Muu has offered (XS)tatic through (2XL)ent for years, and is adding to this range by making the SCOOP available in (3XL)ent, a new size for Nuu-Muu, and one that will be standard going forward.
"It has always been our mission to celebrate real women with real bodies by providing really great apparel that increases their joy in doing what they love," Nienstedt said. "The additional style option of the Scoop and our new 3XL size supports an even wider range of women. We are honored to offer products that encourage women to feel feminine, confident and adventurous. When a woman is comfortable and feels good about herself, she is more willing to experience the world. And that's why we do what we do."
Like all of Nuu-Muu's products, the Scoop dress is made in the U.S.A and currently available for purchase on http://www.nuu-muu.com. The Scoop will be available at select retailers after 12/01/15.
About Nuu-Muu
Nuu-Muu started in 2008 the classic Nuu-Muu exercise dress. Dedicated to the idea that activewear can be fun and truly flattering and that a company can contribute to greater good in the world, they offer a selection of Made-In-The-USA women's apparel that excels technically and is perfectly suited as lifestyle attire. Nuu-Muu is a member of 1% for the Planet and contributes to endeavors that support strong girls and women.