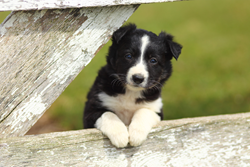 Proceeds from the event which NuVet Labs has donated to for the last 5 years, benefit the Humane Society of Genesee County in Michigan.
Westlake Village, CA (PRWEB) October 29, 2014
NuVet Labs is getting into the Halloween spirit of treats by donating a 6-month supply of its nutritional supplement NuVet Plus to the Tricks for Treats event run through the Humane Society of Genesee County. Sponsored by Key-Lore Kennels, the annual Tricks for Treats is a chance for pets and their families to dress up, show off and socialize with their fellows. Proceeds from the event benefit the Humane Society of Genesee County (HSGC). NuVet Labs has been donating products to the event for the past five years.
This year's Tricks for Treats event was held Saturday, Oct. 25 at Key-Lore Woof Woods Dog Park. Known as the Mutt Masquerade, the costume contest features prizes for the most creative, the best owner-pet look-alike, the best theme, and the top "Tot and Tails" costume combination open to kids under age 10. Donations to HSGC are always welcome.
Part of the event proceeds came from items auctioned off for the event, which is where the donation of NuVet Plus comes in. Unlike typical human Halloween treats that are packed with chocolate, caramel and all varieties of sugary goo, NuVet Plus contains essential vitamins, minerals, antioxidants and herbs geared toward achieving and maintaining optimum pet health.
The daily supplement comes in the form of bite-sized, chewable wafers, and the donation of a 6-month supply consists of 180 wafers. NuVet Plus contains only human-grade ingredients that are geared toward strengthening the immune system, improving joint health and mobility, and providing overall good health.
The Tricks for Treats Halloween fundraiser is just one of the many ways Key-Lore Kennels has been looking out for pets over the past 35 years. In addition to special events, Key-Lore offers full-service boarding, grooming, obedience training and doggie day care as well as after care for the families of pets. Key-Lore Woof Woods Park is a dedicated dog park containing 12 acres of groomed trails along with wooded fenced areas where dogs can enjoy an off-leash environment.
About The Human Society of Genesee
The Humane Society of Genesee County has long been providing shelter and adoptions for companion animals throughout the county. While the organization purchased its first building in 1961, its history actually dates back to 1926.
For more information on The Human Society of Genesee County, please visit Geneseehumane.org
About NuVet Labs
NuVet Labs has been on the cutting edge of pet health since the company's establishment in 1997. Its flagship nutritional supplement, NuVet Plus, took eight years to research and develop, and other NuVet products are backed by the same level of dedication to quality. NuVet Labs also manufactures NuJoint Plus, a hip and joint therapy for dogs suffering from mobility issues, as well as NuJoint DS, a double-strength joint formula. Additional products include therapeutic treatments, shampoos, and odor and stain removers.
For more information on NuVet Plus by NuVet Labs, please visit http://www.nuvet.com/nuvet-plus
Read more about NuVet Labs and Nuvet Plus Reviews