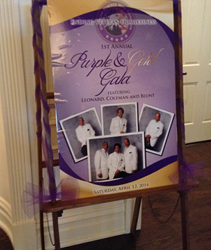 As a veteran, I'm happy NuWave has this opportunity to support the Operation Renewed Hope Foundation and the veterans they serve. - Brad Hubbard, COO, NuWave Solutions
McLean, VA (PRWEB) May 05, 2014
NuWave Solutions is proud to have sponsored the Operation Renewed Hope Foundation's Spring Purple and Gold Gala event for the second year in a row. This year's gala event was held on April 12, 2014 at the Army Navy Country Club in Arlington, Virginia. The event featured live entertainment from Leonard, Coleman, and Blunt (formerly from The Temptations, Platters & Drifters respectively), dining, dancing, and silent and live auctions. The United States Marine Corps' Lieutenant General Glenn "Bluto" Walters served as the keynote speaker and paired journalists Kimberly Dozier and Jeff Goldberg were the evening's masters of ceremony. There was not a dry eye in the Five Star Ballroom when veteran testimonials were presented about how the Operation Renewed Hope Foundation helped them get back on their feet. "The Operation Renewed Hope Foundation does great things to help our veterans!" said Rochelle Thompson, Administrative Coordinator for NuWave Solutions. "Overall it left me inspired. I can't wait until next year's gala."
Operation Renewed Hope Foundation is a charitable 501(c)3 veteran-led organization whose mission is to provide quality housing and supportive services to America's homeless veterans. Since inception in December 2011, the Operation Renewed Hope Foundation has assisted over 250 veterans, raised an excess of $300K, and provided $100K in interest-free loans. They find veterans suitable homes to end their cycle of homelessness or prevented them from becoming homeless. Resources are also provided such as transportation, donated furniture, and household items, dental appointments, donated business attire, and employment networking. You can learn more on how to take direct action or donate on their website.
About NuWave Solutions
NuWave Solutions, with offices in McLean, VA and Columbia, MD, is an IT Consulting firm specializing in analytics, business intelligence, data integration, data warehousing and development, and system integration services. NuWave Solutions has delivered customer focused solutions in the public, private, and national security sectors for 15 years. We understand how to best integrate existing and emerging technologies, and develop solutions that continually exceed expectations.
For more information on how NuWave Solutions can serve your needs and help you build on your success, please learn more about us at http://www.nuwavesolutions.com.