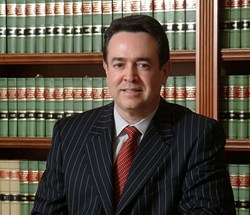 We hope NHTSA will continue to look at whether a car was truly safe, even when basic federal safety standards were met.
Newark, NJ (PRWEB) August 23, 2013
Joseph A. Ginarte, a lawyer who represents car accident victims, today voiced support for recent efforts by the National Highway Transportation Safety Administration (NHTSA) to urge car makers to keep up with technology among competitors in addition to meeting federal standards, including applying a reasonable risk standard when considering vehicle recalls.
"Car makers need to make sure vehicles are safe when they roll off the assembly line, as well as years down the road," said Ginarte, founder of Ginarte O'Dwyer Gonzalez Gallardo & Winograd, a personal injury and product defect law firm with offices in New York and New Jersey. "Federal standards are important, but manufacturers also need to make sure they keep up with the latest safety technology when they design and build passenger vehicles."
Ginarte cited a recent article in Automotive News, in which NHTSA chief David Strickland said automakers must "stay within the zone of reasonable risk" to avoid recalls, adhering to federal safety standards when vehicles are built and also keeping up with state-of-the-art design and technology among competitors. The July 15 article carries the headline, "NHTSA vows aggressive stance on recalls."
In the article, Strickland said recalls are based on the notion of whether risk is reasonable, calling it an evolving notion. NHTSA is obligated to reevaluate potential risk "if state of the art moves all the peers in one direction, and it appears that there is another part of the fleet that has not made those same moves or improvements," Strickland said.
Ginarte said, "It's good to know NHTSA is watching the car industry and technology. Applying a standard of reasonable risk as technology evolves to decide whether to recall a car is a good thing for the people on the roads of New York and New Jersey."
Vehicle recalls have risen in the last few years, with 664 recalls in 2012, compared to 506 in 2002 and 207 in 1992. Most are voluntary and initiated by the car makers themselves; of the 664 last year, 507 commenced without involvement from NHTSA.
But recently, NHTSA requested that Chrysler recall older Jeeps with fuel tanks located behind the rear axle, creating the potential for them to rupture and cause fires in the event of a rear collision. This request from NHTSA was a bit different in that it involved a design issue instead of the failure to meet a safety standard or a defective part. The fuel tank design met federal standards, but other car companies chose other designs after data showed the increased fire risk, according to the Automotive News article. Chrysler resisted the recall request but eventually recalled some of the vehicles.
"It's good to know most car makers are taking a proactive approach and recalling cars when they recognize a problem," Ginarte said. "We hope NHTSA will continue to look at whether a car was truly safe, even when basic federal safety standards were met."
Ginarte reminded car accident victims that a vehicle can still be determined to be legally defective and a manufacturer can be held liable in a product defect lawsuit even if there never was a recall for a particular vehicle. He encouraged crash victims to consult with experienced car accident lawyers such as those at his firm.
"Our attorneys have the knowledge and experience to thoroughly investigate your case, determine if the accident involved a product defect and help you get the compensation you need to put your life back together," Ginarte said.
About Ginarte O'Dwyer Gonzalez Gallardo & Winograd, LLP
For more than 30 years, Ginarte O'Dwyer Gonzalez Gallardo & Winograd, LLP, has served the residents of the New Jersey and New York metro area. The firm assists clients with legal claims arising from medical malpractice, car accidents, truck accidents, motorcycle accidents, construction accidents and other personal injury cases. The firm also represents clients in employment discrimination, Social Security Disability and workers' compensation matters. The Ginarte law firm features offices located in New York City, Queens, Newark, Elizabeth, Clifton, Union City and Perth Amboy. The firm's Newark office is located at 400 Market Street, Newark, NJ 07105 (local phone (973) 854-8400). The firm can assist Spanish-speaking and Portuguese-speaking clients. To learn more, call 1-888-GINARTE or use the firm's online contact form.