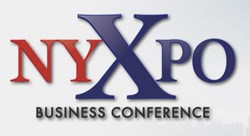 Attendees are welcome to stop by and visit us at Booth #525 and chat with us about their marketing challenges.
Wayne, NJ (PRWEB) October 02, 2013
The Ballantine Corporation will be exhibiting at the New York Business Expo and Conference on October 17, 2013 at the Jacob K. Javits Convention Center. Ballantine will be located at Booth #525.
The New York Business Expo is the Northeast's largest trade show and conference dedicated to business owners, executives, and entrepreneurs. This one day event provides small and medium-sized businesses with exposure, resources, networking opportunities, and high level education. Attendees can network with peers, learn about products, engage with vendors, and attend a wide number of business training seminars.
Ballantine will be participating in the exhibit hall with over 200 other exhibitors to help attendees meet their competitive challenges. Visitors can stop into Ballantine's booth and chat with direct marketing and search engine optimization (SEO) experts and discuss their specific business needs when it comes to direct and online marketing.
In addition to the exhibit hall, the New York Business Expo will include a variety of informative seminars. Topics will include sales strategies, business growth and development, marketing and advertising, startup and entrepreneurship, and business operations. The seminars are segmented into tracks so attendees can choose the tracks that are most appropriate for their business needs.
The expo is being held in conjunction with the #SMAC Summit, an event designed for small business owners, media enthusiast and entrepreneurs to learn more about digital communications.
"Shows like the New York Business Expo gives us a chance to connect with a variety of potential customers, but it also provides a no-pressure way for visitors to connect with us and learn about our services," comments Ryan Cote, Director of Marketing for Ballantine Corporation. "Attendees are welcome to stop by and visit us at Booth #525 and chat with us about their marketing challenges."
To learn more about the New York Business Expo and to register, please visit http://newyorkbusinessexpo.com.
About The Ballantine Corporation:
The Ballantine Corporation is a family-owned direct mail company established in 1966. Services include direct mail, creative, personalized URLs and QR codes. All clients benefit from a strong combination of quality work, aggressive pricing and full production support. Ballantine also has an SEO and online marketing division called Ballantine Digital.