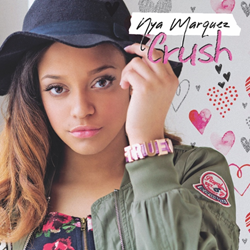 "For less than $1, you can help me break into the iTune charts," Marquez tells her fans, "and we can spread my message against bullying!"
ARLINGTON, Texas (PRWEB) September 20, 2018
September 21 is an important date for teen sensation Nya Marquez, who will release her debut album Crush as well as the video for the single "Crush."
"Be the first to see my newest video by subscribing to my Nya Marquez YouTube Channel," says Marquez. "With your support, we can drive up the views on my video and channel to go viral!"
"Crush" is a follow-up to Marquez's previously-released "Still Standing" video, in which she implored listeners to inspire others to make a difference each day. Marquez wants to create awareness of bullying, gun safety, and teen suicide. She urged young and old alike to stand together to stop the pain and suffering, asking kids to speak up to their parents – and parents to speak up to their kids.
Marquez is touring into 2020 at schools and concert venues throughout the US, on the heels of her last two singles, "I Think We're Alone Now" and "Still Standing.
The kickoff for Marquez's fundraiser program for Bully Awareness begins on September 24. "For less than $1, you can help me break into the iTune charts," Marquez tells her fans, "and we can spread my message against bullying!"
Born in Arlington, TX, 16-year-old Nya has been performing since the age of three and is now a professional singer, dancer, actress, and model. Over the past several years, Nya has been putting in serious work at perfecting her performance, partnering with A.B. Quintanilla III, brother of late Latin superstar Selena, Tiffany the 80's icon and others.
#NyaMarquez #Crush #BullyAwareness
Nya's website:http://www.nyamarquezofficial.com/
Nya's Facebook:https://www.facebook.com/NyaMarquezOfficial/
Nya's Twitter: https://twitter.com/NyaMarquezmusic