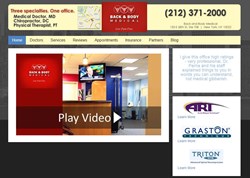 This makes our team even stronger. Collaboration by professionals in all four healthcare disciplines leads to more effective treatments and better outcomes.
New York, NY (PRWEB) February 10, 2014
NYC Chiropractor Dr. David Perna knows that reaching important goals takes time, hard work and a willingness to overcoming challenges. He's learned this lesson repeatedly over the years as the Owner and Director of Complementary and Alternative Medicine at a successful integrated healthcare practice in New York City. He's also learned it as an Ironman triathlete. So Dr. Perna feels a sense of accomplishment and excitement at being able to offer acupuncture at Back and Body Medical's Midtown Manhattan office. "I've had the intention of bringing acupuncture to our practice from the very beginning, but there were a couple of hurdles we had to get over before we could do it the right way. We needed to be sure the clinic's corporate structure would fully support the new service, and we also wanted to find the very best acupuncturist to join our team." With these two requirements now met, Dr. Perna's original vision of a multidisciplinary clinic specializing in treating back and neck pain is a reality. "The original logo design for Back and Body Medical actually included four circles, one for each specialty we wanted to bring together within the practice—medical, chiropractic, physical therapy and acupuncture. So we've anticipated this addition for quite a while."
According to Dr. Perna, adding acupuncture to the clinical mix at Back and Body Medical means a couple of important things for patients. "This makes our team even stronger. Collaboration by professionals in all four healthcare disciplines leads to more effective treatments and better outcomes. At the same time, having an acupuncturist onsite means patients can avoid the old scenario where they'd have to look for different types of care in different places. Now they're able to avoid multiple trips to multiple clinics. Plus, out patients' insurance options improve as well, since acupuncture for back and neck pain is typically covered. This type of convenience helps drive patients' satisfaction with our practice."
Acupuncture is a very flexible therapeutic option, and it can be used to address a wide variety of health problems, including fibromyalgia, liver, spleen, and kidney disorders. However, Back and Body Medical is focused on using acupuncture to treat musculoskeletal conditions such as acute and chronic radiating neck and back pain. Dr. Perna sees acupuncture as part of a holistic approach. "Every day, we see a growing number of cases that benefit from a team approach to care that incorporates chiropractic, physical therapy and acupuncture in a coordinated treatment plan."
Currently, acupuncture is available in the practice only on Mondays and Wednesdays, but the ultimate goal is for the service to be offered five or six days a week. According to Dr. Perna, the early response by patients and potential patients has been extremely positive. "I am really surprised by the level of interest people in NYC have in acupuncture and never expected the response would be so great. It's clear that people in the city are very open-minded about trying new health techniques." While he's excited about New Yorkers' interest in the new therapy option, Dr. Perna is even more enthusiastic about the outcomes he's seeing. "I am excited to see such great results for patients that receive acupuncture treatment in our clinic, and I'm glad we're now able to offer this much-needed service."
About Back and Body Medical
Back and Body Medical in Midtown Manhattan is an integrated healthcare practice specializing in the treatment of back, neck, shoulder, hip and leg pain. The clinic's multi-specialty approach, combined with advanced diagnostic techniques and numerous progressive treatment choices, has made Back and Body Medical a very attractive option for time-pressed New Yorkers who want access to multiple pain doctors and cutting-edge therapies without leaving Midtown Manhattan.
Back and Body Medical
133 E 58th St. Ste 708
New York, NY 10022
(212) 371-2000
http://backandbodyny.com