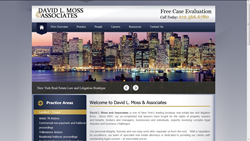 When filing a civil suit, you have a degree of control over both the timing and the relief to be requested in the case.
New York, NY (PRWEB) March 06, 2014
David L. Moss and Associates is set to provide no-charges case evaluation to tenants in NYC for rent overcharge. Rents required to be paid to the landlords must conform to legal guidelines and if the tenants feel that these are violated, they have the legal remedy of filing a civil suit or a DHCR (Division of Housing and Community Renewal) complaint. If they are being sued for rent in housing court, they may bring overcharge claim in the case.
"When filing a civil suit, you have a degree of control over both the timing and the relief to be requested in the case. Moreover, you are entitled to discovery, which means you can request the court to direct the landlord produce documents important to the case. The decision may be quick, provided you are represented well in the court," commented a senior lawyer with the firm.
The landlord must establish the rent increases taken over the past have been lawful. For rent controlled tenants, the DHCR may investigate to the commencement of the tenancy. Proof must be kept if there is a capital investment in the property by tenant. If there was a rent increase, documentary proof including the contracts and proof of payment must be produced. The court may award a tenant triple damages for all rent overcharges occurred during the two years prior to the filing of rent overcharge complaint.
Statute of limitations law may bar the recovery of damages for overcharges that occurred over four years prior to the filing of the complaint, depending upon the circumstances. The attorney added, "Law requires a complaint to be filed within four years of the first overcharge, except in situations involving fraud. If you believe that the landlord charged beyond their mandate, you should be swift with action."
If the tenant has stopped paying rent due to overcharge and landlord follows with an eviction action, they should assert the overcharge and treble damage claim as a counterclaim. The issue is very complicated and the tenant must speak to the real estate lawyers in NYC in detail before proceeding. Know more here about tenant rights NY.
About the Firm
David L. Moss and Associates has long experience of representing parties in landlord-tenant disputes and handling knotty situations. They have extensive knowledge of real estate legal procedures including Yellowstone Actions, Commercial non-payment and holdover proceedings, Article 81 Actions, Article 78 Actions, Residential holdover proceedings, Vacatur of Eviction Process NY, Rent Overcharge Complaints, Harrassment Complaints, Appeals and Administrative Hearings. Visit website for more information on warrant of eviction and other legal procedures.
Contact Information
370 Lexington Ave.
Suite 2102
New York, NY 10017
Phone: 212.566.6780
E-mail: david@mossnylaw.com
Website: http://mossnylaw.com/