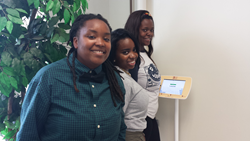 Our role in this initiative, which is to bring jobs and training programs to job seekers who previously didn't know about those opportunities or didn't have access to them, is central to Apploi's core mission
New York, NY (PRWEB) February 17, 2015
Mayor Bill de Blasio announced on February,12, that Apploi and other industry leaders are participating in the NYC Tech Talent Pipeline, a $10 million public-private partnership spearheaded by the Mayor to support the growth of the City's tech ecosystem and prepare New Yorkers for 21st century jobs.
Leveraging its award-winning mobile job marketplace technology, Apploi will help expand access to technology job opportunities to residents across the five boroughs. Available on mobile devices, computers, as well as through public jobs kiosks, Apploi helps companies to reach talent they traditionally have been unable to engage; and helps job seekers increase their chances of getting those jobs — through a portfolio section and interactive questions that can be used to showcase personality, passion, and potential.
Apploi will make 15 of their jobs kiosks available for students across the five boroughs to search and connect to open job opportunities, and learn about training and up-skilling opportunities.
Apploi is a participant in the NYC Tech Talent Pipeline initiative along with industry leaders, including Microsoft, Google, Goldman Sachs, JP Morgan Chase, AT&T, Facebook, LinkedIn, Verizon, Kickstarter, Buzzfeed, and The New York Times, who, catalyzed by the City of New York, pledge funding, programs, and ongoing support to deliver tech education and job opportunities to New Yorkers.
"Our role in this initiative, which is to bring jobs and training programs to job seekers who previously didn't know about those opportunities or didn't have access to them, is central to Apploi's core mission" said Daniel Freedman, Apploi 's Chief Strategy Officer. "Companies greatly benefit from both having access to previously untapped talent, and also from seeing job seekers' personality, passion, and skills – looking beyond the traditional one-dimensional resume."
Leading brands now use Apploi to fill their open service, retail and hospitality jobs including: Rue21, Uniqlo, H&M, Cinnabon, PayPal, Firehouse Subs, Jamba Juice, Winston Retail and more than 3500 different companies.
Apploi's partnership with cities and states, colleges, libraries, and shopping malls, means that Job seekers can apply at Apploi's public kiosks placed strategically throughout the United States. The Apploi job search Kiosks connect job seekers to opportunities they might otherwise miss using traditional job search techniques.
In addition to the Kiosks, Apploi offers a mobile job search App which is available to download in both iOS and Android devices. Using the mobile app, users can search for jobs on their phones or tablets using GPS to target local jobs based on their location.
About Apploi
Apploi is an ecosystem for the job seeker. The app is available on the Google Play and App stores, as well as on the web, where job searchers can find written and video advice content. Working with over 3500 brands across America, Apploi posts jobs, mainly in the retail, services and hospitality industries. Users applying directly though the app can use a video response to show their personality far more effectively than a traditional resume could. The Internet never did for the service and support industries what it did for corporate hiring, and Apploi is trying to change that inefficiency. Recognized by the White House as an American Innovator and a 2014 Tabby Award winner Apploi continues to drive its mission of providing access to jobs and helping companies reach talent they traditionally have been unable to engage.
Employers wishing to learn more can contact employers(at)apploi(dot)com or call 212-273-9694.
For press inquiries please email press(at)apploi(dot)com.