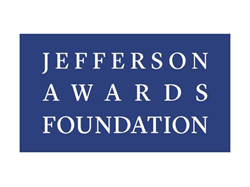 Each year we recognize America's greatest individuals and companies who are changing their communities, our nation and the world through public service.
New York, NY (PRWEB) February 22, 2016
The Jefferson Awards Foundation, the nation's most prestigious and longest-standing organization dedicated to powering and celebrating public service, will honor the country's top public service achievers in 2016 at its annual gala in New York City. Taking place at Gotham Hall on March 2, 2016, the Foundation will also recognize individuals, organizations and young people who have made exemplary achievements in service on a local level in the past year.
"Each year we recognize America's greatest individuals and companies who are changing their communities, our nation and the world through public service," said Hillary Schafer, Executive Director of The Jefferson Awards Foundation. "Through celebration, we say thank you, we tell their stories, and we become a force multiplier through inspiration."
Billie Jean King will receive the Lifetime Achievement in Public Service Award. She is the founder of the Billie Jean King Leadership Initiative and the co-founder of World TeamTennis. Her commitment to social justice and equality are known worldwide. King joins the ranks of Robert de Niro, Tom Brokaw and Ray Chambers, who have previously received this award.
Eric Decker, wide receiver for the New York Jets, will receive the award for Greatest Public Service by an Athlete. Together with his wife Jessie, Decker founded the Eric & Jessie Decker Foundation, which strives to positively impact the lives of United States military service members and veterans as well as animals through fundraising and community outreach. In addition, Decker serves as a spokesperson for the Jets' anti-bullying program. Previous recipients of this award include Marty Lyons, Drew Brees and Freddie Jackson.
Cindy Robbins, EVP of Global Employee Success, of Salesforce will accept the award for Outstanding Service by a Corporation. Since the inception of the company, Salesforce created a philanthropic approach called the 1-1-1 model that leverages one percent of its own workforce, technology and resources to help improve communities around the world. Companies awarded in past years include Target, Pfizer, Weyerhaeuser and General Electric.
As a way to honor the thousands of armed services members who volunteer to protect the United States every day, the Jefferson Awards Foundation will present a special award to an entire category of individual. In 2016, the Samuel S. Beard Award for Greatest National or Global Service 35 & Under will be awarded to the Young American Soldier in a very special presentation.
During the ceremony, the Jefferson Awards Foundation will also announce the 2016 LEAD360 finalists and present awards to the national activation winners of 2015. LEAD360 is the foundation's platform for powering youth service ideas. JAF activated three service projects in 2015, impacting nine million lives with a dollar value of $12 million. The 2015 activation winners are: Blessings in a Backpack, Norman Oliver, TransferNation, One World Play Project, Indiana Sports Corp, University of Arizona Athletics, Family Giving Tree, Mandi Simon and the Barbara Bush Houston Literacy Foundation.
FOX Business host Trish Regan, a member of the Jefferson Awards Foundation's Board of Governors will be the Mistress of Ceremonies for the evening. The evening's honorary co-chairs will be Buffalo Bills' Hall of Famer Jim Kelly and NY Jets alumni Marty Lyons.
About the Jefferson Awards Foundation
The Jefferson Awards Foundation is America's gold seal of public service. Like their namesake, they believe engaging in social good inspires purpose - and drives lasting solutions for our communities and the nation. Their five programs accelerate and amplify public service. JAF delivers tools for collective engagement and empower anyone to make an impact. They train and activate Americans to take action and to be leaders in schools, communities, workplaces and the world. The Jefferson Awards Foundation is the country's most prestigious and longest standing public service award. With celebration, they say thank you. In sharing the stories of America's best citizens, they empower them to do more and inspire all to take action. To learn more about the Jefferson Awards Foundation, visit: JeffersonAwards.org or engage with our community on Instagram, Twitter and Facebook.