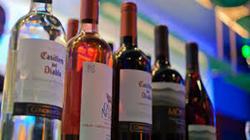 Luxury NYC Hotels like Refinery Hotel prepare to welcome visitors who come to the city for the NYC Winter Wine Festival and similar Events.
New York, NY (PRWEB) February 05, 2014
The NYC Winter Wine Festival provides attendees the opportunity to sample more than 200 wines from around the world. Light fare such as breads, cheese and a few specialty foods will also be available, and live music will provide the backdrop for this NY Event. Luxury NYC Hotels like Refinery Hotel prepare to welcome visitors who come to the city for this and similar Events. Refinery Hotel has impressive special offers to entice guests. View offer details >.
NYC Winter Wine Festival
When: February 8, 2014
Where: Best Buy Theater | 1515 Broadway New York, NY 10036
Call: 212-930-1950
Best Buy Theater will morph into a fabulous vineyard for the NYC Winter Wine Festival, a popular NY Event. The Festival offers two sessions during which attendees can sample 200 wines that have been assembled by the experts at Vintry Fine Wines.
With live contemporary jazz music playing in the background, those who attend this Event in New York will enjoy a trip around the world as they sample wines curated from all corners of the globe. VIP wine classes are available for those who want a more in depth look at the wines. Special wine selections are available only to participants of the VIP classes.
A program guide that includes a list of all the wines at the Festival is provided to each attendee. The guide includes space for tasting notes, so favorites from the Festival can be purchased later.
Those wishing to attend should reserve their spot as it is not unusual for both sessions to sell out.
About Refinery Hotel – An NYC Hotel:
Refinery Hotel – An NY Hotel is the newest Hotel in New York's Fashion District, situated on 38th Street, between 5th and 6th Avenues. Originally built as a high-end Millinery Factory and Tea Salon in 1912, Refinery Hotel's design draws on the building's past, combining raw elegance in the Guest Rooms with refined public spaces. Lord and Taylor, Fifth Avenue, and several small apparel and accessory boutiques sit around the corner from Refinery Hotel, a NYC Accommodation that breathes new life into the New York Garment District.
This New York Hotel indulges Guests with upscale offerings like loft-style Guest Rooms, Prohibition Era-decorated Winnie's Lobby Bar, the luxurious Parker & Quinn Restaurant, and The Rooftop Bar, a 3,500 square foot-gathering space that affords spectacular views of the Empire State Building.
Refinery's 197 industrial chic Guest Rooms and Suites offer classic NYC loft living in redefined spaces, which make beautiful use of the historic building's 12' ceilings, distressed hardwood floors, and exposed walls. Guests at Refinery Hotel – A New York City Hotel - enjoy extravagant features like walk-in stone floor showers as well as charming appointments that nod to the NYC Hotel 's heritage, such as the work desks that resemble old sewing machines.
Visiting New York? Choose Refinery Hotel - An NYC Hotel.
Visit our website to view our luxury accommodations >.
View current special offers - View offer details >.