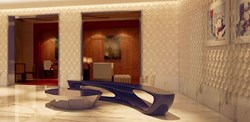 In addition to its sought-after location, the Quin will offer guests an unrivaled range of deluxe amenities in each of its 208 elegantly-appointed guest rooms and suites...
New York, NY (PRWEB) October 01, 2013
The Quin, New York City's newest luxury lifestyle hotel, will provide the sophisticated traveler a refined urban sanctuary. Opening October 2013, the Quin will lie in the midst of the 57th Street gallery district, a mere block away from the grandest of the Fifth Avenue retailers, and a stone's throw away from Central Park and the Museum of Modern Art.
In addition to its sought-after location, the Quin will offer guests an unrivaled range of deluxe amenities in each of its 208 elegantly-appointed guest rooms and suites including an array of the best-selling Fresh® skin and hair care products, Duxiana beds, state-of-the-art Evolve and KoolConnect technology, Bowers & Wilkins Audio, and the Attaché, luxury lifestyle managers who surpass traditional concierges by crafting exclusive, insider-access itineraries.
As the first hotel in New York to introduce Fresh® products into every guestroom, the Quin will equip each of its 208 rooms with the new Fresh Amenity Collection which includes selections from the brand's best-selling skincare, body care, and hair care lines. Fresh® products feature only the highest-quality ingredients with luscious scents and rich textures to provide a complete sensorial experience. The Quin has partnered with Fresh® to offer guests indulgent travel essentials that will allow them to maintain their beauty ritual while on the road. The Amenity Collection includes the following products:

Soy Shampoo: a moisturizing formula for all hair types fortified with protein-rich soy and stimulating ginseng root to nourish and improve the overall texture of the hair
Pomegranate Conditioner: a weightless, daily conditioner suitable for all hair types that detangles and moisturizes while adding body, texture, and sheen to the hair
Citron de Vigne Soap: a triple-milled, vegetable soap enriched with hydrating shea butter and infused with an effervescent scent
Citron de Vigne Bath & Shower Gel: a refreshing foaming gel that cleanses and nourishes the skin
Citron de Vigne Body Lotion: a nourishing formula proven to soften and soothe the skin
Additionally, Fresh® is offering in-store spa services in partnership with the Quin. Appointments booked through the Quin Attaché will include a selection of full-size Fresh® products in equal value to the spa treatment purchased for guests to take home.
The Attaché is the hotel's dedicated luxury lifestyle curators tasked with creating distinctive itineraries for each guest based upon individual needs. The Quin has partnered with the premier lifestyle enhancement brand, Luxury Attaché, to provide guests with lifestyle experts that aim to deliver meaningful, authentic experiences.
Each Attaché is an expert in everything from fashion to culture with access to exclusive privileges of Manhattan's elite. Prior to arrival, a personally assigned Attaché will gather information regarding travel plans to curate an itinerary tailored to meet the guest's needs. The Attaché can do anything from arranging a private tour of Metropolitan Museum of Art's new "PUNK: Chaos to Couture Exhibit" mere hours before opening to the public or coordinate a private, after-hours trunk show at Bergdorf Goodman to preview and preorder designer shoe collections weeks before they are available to the public.
The Quin aims to deliver nothing less than the essence of New York in an atmosphere of serene elegance that is perfectly calibrated to revitalize today's sophisticated travelers. The new luxury lifestyle hotel has partnered with renowned bed retailer, DUXIANA®, as their meticulously handcrafted beds are built to fit each need of the human body. Each guestroom will offer a signature king or queen size DUX® bed, which combines the finest of materials and craftsmanship to create the ultimate comfort and ideal sleep environment with customized springs based around the body's three comfort 'zones' that need support – the shoulders, hips and legs.
Each DUX bed will be outfitted with expertly hand-woven SFERRA® bedding. SFERRA® is known for creating the finest plush linens in the world made with long-staple Egyptian cotton, to which Italian and Western European textile masters apply state-of-the-art technology to spin, dye and finish each individual yarn to precise specifications and stringent standards.
To ensure each guest is provided a customized experience, the Quin is furnishing each room with Evolve's control technology. The Evolve AI bedside controller allows guests the ability to control the lights, thermostat and window treatments as well as provides a 5-day weather outlook, streaming news updates as well as place privacy and service room requests via an in-room control tablet.
The Quin will also be outfitted with Evolve's back-office system, EvolveNet, which has extended in-room automation and monitoring access to the Quin's engineering staff, housekeeping and the front desk. Select staff will have the ability to monitor and control the lighting and temperature of each room, wing, and floor to maximize customer comfort. This highly-efficient technology will allow the Quin to provide guests personalized treatment by pre-setting rooms to guests' lighting and temperature specifications.
In addition to Evolve, each of the Quin's guest rooms is equipped with additional state-of-the art technological features including Intrigue by KoolConnect Technologies. The Intrigue product provides interactive TV and other entertainment and connectivity services including an interactive program guide, in-room dining services, fully customized marketing screens, virtual IP based promotional channels, museum-quality HD moods, video on demand services and 300+ SHOUTcast internet radio stations.
KoolConnect also offers networking services, high-speed internet access and VU, which transforms a regular hotel TV into a smart TV with personal media sharing, smart TV internet apps and more.
To compliment this comprehensive guest experience, unparalleled sound will be provided from lobby to penthouse by renowned British audio manufacturer, Bowers & Wilkins. For almost 50 years, Bowers & Wilkins has created the world's most respected audio products. Guests of the Quin will soon join Abbey Road studio engineers, who have used Bowers & Wilkins speakers for 20 years, in realizing how true accurate sound can enhance the emotional experience of music.
Additional amenities include in-room Nespresso® machines, a fully-equipped Executive Boardroom, a Drawing Room furnished by Apple, and a 24-hour workout studio complete with top-of-the-line Technogym equipment and trainers who offer customized exercise plans.
About The Quin - An NYC Hotel:
The Quin - An NYC Hotel, is located on the corner of 57th Street and 6th Avenue and will open on October 2013. At the intersection of art, music, and fashion, its privileged Midtown location provides effortless access to Central Park, Lincoln Center, Carnegie Hall, The Museum of Modern Art, and Fifth Avenue couture. The Quin melds modern opulence with its rich artistic heritage in each of its 208 thoughtfully appointed guest rooms including 28 suites.
Guests relish in urbane and intuitive services, from the Attaché, lifestyle managers that are beyond a traditional concierge service who can curate exclusive, insider access itineraries, to distinguished amenities like an Executive Boardroom, state-of-the-art Technogym fitness center, Apple equipped drawing room, Dux® beds by Duxiana, bath amenities by Fresh®, and a two-story, 130-seat signature restaurant, The Wayfarer. Eric Marx and Lisle Richards of Metric Group have partnered with Jimmy Haber of ESquared to create an artisanal American grill designed to showcase a diverse selection of regional seafood.
The Wayfarer will offer a variety of experiences including a dramatic grand parlor, a sophisticated dining lounge, and three intimate private dining rooms. Renowned architecture and interior design firm, Perkins Eastman, has transposed a contemporary masterpiece on the classical foundation that was once home to cultural icons like pianist Ignacy Jan Paderewski and artist Georgia O'Keeffe. Artfully sophisticated, the Quin is the Quintessential NYC Hotel.