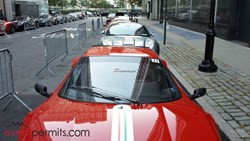 'It was a dream to see these amazing cars all lined up,' said Event Manager Stella Fitzpatrick. 'To see a fleet of some of the fastest cars in the world really made an impression, so it was definitely a fun event to be a part of.'
(PRWEB) September 09, 2013
EventPermits, a New York City event permit agency, assisted the Tributo Ferrari event in New York on August 24, 2013 by organizing the navigation for the event, coordinating parking for the luxury vehicles, enlisting security and production staff, capturing and editing the photography and videography for the national launch, and securing several event permits that were needed to run the event legally and without incident.
The Tributo Ferrari event was a rally organized to celebrate the season closer at the Bridgehampton Polo Club and the large gathering of the Italian sports cars. Over 60 owners participated in the event with their Ferraris, making the tour from the Ritz Carlton in Battery Park to the Bridgehampton Polo Club on Long Island. The fleet was a respectable representation of the Ferrari brand, with a full line-up of current models present as well as several classics.
"It was a dream to see these amazing cars all lined up," said Event Manager Stella Fitzpatrick. "To see a fleet of some of the fastest cars in the world really made an impression, so it was definitely a fun event to be a part of."
EventPermits assisted with this event in several ways, one of the most notable being the parking coordination for these exceptional cars and staffing overnight security to ensure the safety of the vehicles. Parking coordination included acquiring parking permits and setting up legal curbside parking. Additionally, the EventPermits staff captured video and still photography of the event from a helicopter and snorkel lift, and secured the other needed permits, including the street activity permit, the film permit and the generator permit.
EventPermits cuts through the red tape of the special event process, working as a behind-the-scenes support team, exclusively with, and on behalf of their advertising, public relations and event marketing agency clients, in order to secure prime locations and the necessary permits for successful special events from coast to coast. Based in Hoboken, New Jersey and the New York City metro area, EventPermits also has fully staffed offices in Atlanta, Chicago, Los Angeles, New Orleans, San Francisco and Toronto. To obtain a quote, visit http://www.eventpermits.com or contact Stella Fitzpatrick by telephone at (201) 223-1602 x 101.