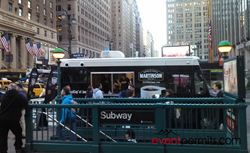 The product got a really great response—who doesn't want a free cup of coffee on the way to work?
New York City, NY (PRWEB) October 16, 2013
EventPermits, an agency that specializes in event management and securing New York event permits, recently assisted Martinson Coffee with a food truck tour that took place from September 19 through October 10 and was held in promotion of the brand's K-cup coffee. The food truck made stops at various locations throughout New York, handing out samples of three of the company's roasting styles, breakfast, medium and robusto, during the times of the day with the busiest pedestrian commuter traffic. The food truck made stops at several New York locations, including Madison Square Garden, the site of the World Trade Center and Union Square.
EventPermits assisted the producers of these events with logistics and coordination and by setting up security and obtaining the necessary permits needed for the events to run smoothly and legally. The permits acquired for this event included the parking permit and the health permit, necessary for preparing and distributing the coffee samples.
"This event ran really smoothly," says Event Manager Stella Fitzpatrick. "The product got a really great response—who doesn't want a free cup of coffee on the way to work?"
In addition to the New York locations, this event also traveled to locations in New Jersey and Connecticut. EventPermits was able to assist with each location.
EventPermits cuts through the red tape of the special event process, working as a behind-the-scenes support team, exclusively with, and on behalf of their advertising, public relations and event marketing agency clients, in order to secure prime locations and the necessary permits for successful special events from coast to coast. Based in Hoboken, New Jersey and the New York City metro area, EventPermits also has fully staffed offices in Atlanta, Chicago, Los Angeles, New Orleans, San Francisco and Toronto. For more information, please visit http://foodtruckpermits.com/.