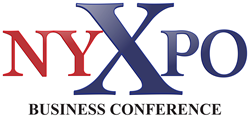 "Our high-quality content and valuable resources are designed for business owners, managers and entrepreneurs from a wide range of industries."
New York, NY (PRWEB) October 26, 2016
Event Management will hold its 12th New York Business Expo and Conference from 9:00 a.m. to 5:00 p.m. on Thursday, Nov. 10, at the Jacob K. Javits Convention Center (Hall 1E, 655 W 34th St.) in Manhattan. The event will include Keynote lectures from cutting-edge industry leaders, such as Bestselling Author, Greg Reid and America's Small Business Expert, Bill Walsh, along with a strong educational program designed for business executives, owners and entrepreneurs. More than 30 renowned business educators will share tactics, tools and emerging strategies in topics such as brand strategy, inbound marketing, social media, business development and more.
"We are proud to provide this content to New York's business community for over 10 years now. Our high-quality content and valuable resources are designed for business owners, managers and entrepreneurs from a wide range of industries," said Marc Sherer, President of Event Management. "This vast industry knowledge has supported continued growth as we gather some of the best minds within the business industry."
This year's event includes a brand new feature, "Women Lead & Learn". NY Expo brings together business women of all levels and industries to develop, enhance and expand their business skills, improve their leadership ability, and take their companies to new heights! WLL workshop presenters will share their expertise on areas ranging from Women Owned Business Certification to negotiating and winning more deals now!
The Expo will also feature a SCORE Theater and the Social Media Lab, where attendees will learn how businesses can leverage popular social media platforms such as LinkedIn, Facebook and Instagram with live demonstrations from social media experts. This year's event is Presented by AmTrust Insurance and Sponsored by Verizon. Other sponsors include Constant Contact, Infusionsoft, Powerteam International, Propel Marketing, Upsize Today, yp Marketing Solutions, Likeable Local and SCORE. To register or learn more about this event, visit http://www.newyorkbusinessexpo.com.
About Event Management
Event Management LLC is a Connecticut-based firm with more than 20 years of experience in the production of major business shows and special events. Event Management produces trade shows throughout New England and New York. Visit http://www.eventmanagement.org to learn more.
# # #