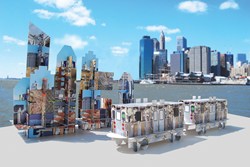 New York, NY (PRWEB) August 15, 2013
Urban Canvas, an eco-friendly toy company, launched in September 2012, will be presenting its complete line of three dimensional, sculptural art and craft toys at booth #7076 in the Baby and Child section at NY NOW, the market for home and lifestyle. NY NOW will be held at the Jacob Javits Convention Center in New York City, August 17-21, 2013.
The Urban Canvas product line features buildable toys that children can freely decorate, play, and display. They are dual-sided, with an inspiring image collage on one side, and a blank canvas on the reverse side for kids to design and decorate. Urban Canvas toys are comprised of three collections that satisfy a diverse range of interests. Children can discover the magic of the city with skyscrapers and trains in the City Streets collection, or delve into the wonders of nature with colorful critters in the Nature Trails collection. Its newest collection, Modern Classics, puts a modern spin on time honored toys. The Modern Classics collection includes an award winning modular dollhouse and a set of customizable playing cards.
Urban Canvas toys will also be featured in two of NY NOW's curated exhibits. The Mod House, which was named "Eco-friendly Product of the Year" and "Creative Play of the Year" by Creative Child Magazine will be part of NY NOW's "Sustainability: design for a better world" display at the Javits Center's North Concourse. The Urban Canvas Spring Butterfly and Metropolis Train Set will be featured in NY NOW's "Made in the USA" display at the Javits Center's North Connector.
For more information about NY NOW, the market for home and lifestyle, visit http://www.nynow.com .
About Urban Canvas:
Urban Canvas is committed to preserving the environment and developing craft toys that stimulate artistic growth in children. Urban Canvas toys are three-dimensional sculptural canvases for children to build, decorate, play and display. Urban Canvas promotes recycling, reducing landfill waste and increasing the overall health of the planet for our children. To learn more about Urban Canvas toys, visit http://www.urban-canvas.com .