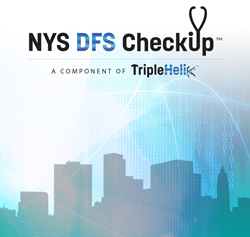 The Assured philosophy is to empower our clients with the appropriate, cost-efficient, level of assessment necessary to provide visibility into cyber risk and into compliance.
Austin, TX (PRWEB) September 19, 2017
The ground-breaking New York State Department of Financial Services (NYS DFS) cybersecurity regulations have transitioned into full force and effect. The law requires nearly all regulated banking, finance and insurance organizations operating in the state ("Covered Entities") to conduct an annual, professional, comprehensive cybersecurity risk assessment, with normative requirements beyond assessments: bi-annual software vulnerability scans, penetration testing, installation of a Chief Information Security Officer (CISO) or a Virtual CISO, reporting data breaches within 72 hours, use of multifactor authentication, encryption and more.
Assured offers a comprehensive set of products and services to satisfy the NYS DFS regulations completely—from assessment to compliance to vulnerability scanning, multi-factor authentication, encryption and more, for Covered Entities ranging in size from the Fortune 100 to a 12-person insurance brokerage firm.
NYS DFS Checkup™
For smaller and medium sized companies, Assured announces its online NYS DFS Checkup™, empowering companies to see how they stack up against the NYS DFS compliance standards. The tool delivers customized clarity of what is needed to comply with the regulations. One of the hallmarks of any Assured assessment is the combination of cost-efficiency and practicality addressing both steps for compliance and improved security.
For larger companies, Assured continues to offer its TripleHelix™ comprehensive cyber risk assessment tool which yields a Roadmap of improvements, a CyberScore®, and a Regulatory Compliance Dossier™, populated with any regulatory or compliance report from dozens available, including the NYS DFS filing. TripleHelix™ is truly one-stop shopping, respecting management time and client resources.
"The Assured philosophy is to empower our clients with the appropriate, cost-efficient, level of assessment necessary to provide visibility into cyber risk and into compliance," said Stephen M. Soble, Assured's CEO. "The new NYS DFS Checkup™ is a tailored, online subset of the TripleHelix™ comprehensive risk assessment designed for larger companies," he added.
The NYS DFS Checkup™ is an easy first step to full compliance. The online user experience is thorough and efficient, with clear questions and help available, if needed. The Assured team can support every requirement under the NYS DFS regulations, including one which no one else can equal—the required bi-annual vulnerability scanning.
Signup for the NYS DFS Checkup™ is available here.
AssuredScanDKV®
"In light of the recently revealed Equifax data breach cyber-attack, we have learned that a known vulnerability in the software operating on the Equifax network was exploited. In fact, some 80% of all successful cyber-attacks exploit known vulnerabilities in the software" explained Daniel Kim, Assured's VP of Business Development. "AssuredScanDKV® is the only scanner on the market which Detects Known Vulnerabilities and provides clear, detailed means of remediation for every vulnerability. Had Equifax been using AssuredScanDKV®, their breach may not even have occurred," Mr. Kim asserted.
"Once the New York authorities understand the power of AssuredScanDKV® in action, we expect it to become a widely-adopted solution. For those feeling powerless in the wake of unrelenting cyber data breaches, genuine help is here," Soble concluded.
A case study on the power of AssuredScanDKV® is here.
The New York regulations require encryption of non-public information by September 2018. According to Kim, "Assured can certainly help with the encryption, but uniquely, we offer a blockchain driven encryption key management system, DECENT™, which will add a much-needed level of protection to typical encryption. We are well suited to assist any sized banking, finance, financial services or insurance firm in their cybersecurity compliance and risk reduction needs."
About Assured Enterprises:
The Assured Team includes cybersecurity engineers who have held leadership positions for the US Department of Defense and the Intelligence Community, as well as for major US companies.
Assured Enterprises' clients include the US Department of Defense, companies among the Global Fortune 100, and major, medium sized and smaller firms in banking, finance, financial services, insurance, healthcare and professional services.
Assured Enterprises offers a holistic, customized approach to cybersecurity risk assessment, measurement and mitigation, geared to deliver powerful, proactive cybersecurity.