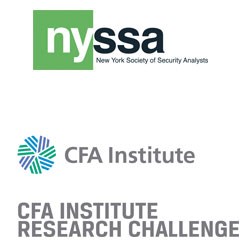 New York, NY (PRWEB) October 31, 2013
The New York Society of Security Analysts (NYSSA) announced today that Colgate-Palmolive will be the subject company for the local competition of the CFA Institute Research Challenge.
Colgate-Palmolive is a leading global consumer products company, tightly focused on Oral Care, Personal Care, Home Care and Pet Nutrition. Colgate-Palmolive sells its products in over 200 countries and territories around the world under such internationally recognized brand names as Colgate, Palmolive, Mennen, Softsoap, Irish Spring, Protex, Sorriso, Kolynos, Elmex, Tom's of Maine, Sanex, Ajax, Axion, Soupline, and Suavitel, as well as Hill's Science Diet and Hill's Prescription Diet.
The CFA Institute Research Challenge is a global competition which tests the analytic, valuation, report writing, and presentation skills of university students. Local CFA societies host and launch local competitions involving teams of business and finance students from participating universities who work directly with a local company in researching and preparing a company analysis. The sponsor of the NYSSA-hosted local competition is S&P Capital IQ.
This year the New York local competition features the following 20 schools:
1. Baruch College, City University of New York
2. Binghamton University
3. Brooklyn College
4. The College of New Jersey
5. Fairfield University
6. Fordham University
7. Hofstra University
8. Iona College
9. Molloy College
10. Montclair State University
11. New Jersey Institute of Technology
12. Pace University
13. Quinnipiac University
14. Ramapo College of New Jersey
15. Rutgers University
16. Saint John's University
17. Saint Peter's University
18. Seton Hall University
19. University at Albany
20. William Paterson University
Each team prepares a written research report and gives a preliminary presentation to professionals who will select four finalists. The "final four" will present their research to a panel of respected Wall Street experts on February 20, 2014 and the winner is selected based on combined scores for the written report and oral presentation. The local winner will advance to the Americas Regional competition in Denver, Colorado from March 18–19, 2014.
Visit http://www.nyssa.org/research-challenge for more information on the local challenge.
About NYSSA
Established in 1937, the New York Society of Security Analysts (NYSSA) is a leading forum for the investment community. NYSSA's mission is to promote best practices and the highest professional and ethical standards in the industry. NYSSA is a nonprofit industry organization that provides education and a venue for policymakers and practitioners to discuss the major issues that drive the finance industry and economy. The Society also strives to assist its members and other financial professionals in their career development. With nearly 10,000 members, NYSSA is the largest of the 135 societies of CFA Institute, which has more than 105,000 members globally.