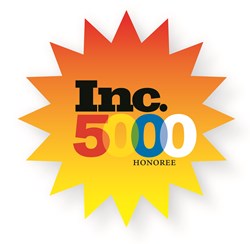 "I attribute much of our success to our stellar engineers, employee focused corporate culture, and continually reinvesting in our world class facilities"- Richard Lerz, Nytec CEO
Seattle, Washington (PRWEB) August 29, 2013
Nytec, a 38 year old leading consumer electronic engineering firm, has been named for a second consecutive year to the prestigious 2013 Inc. 500|5000. The list represents a comprehensive look at the most important segment of the economy—America's independent entrepreneurs. Nytec ranked at an impressive 1213th place on this year's list, with a dramatic 342% three year revenue growth rate from 2009-2012.
The Redmond, Washington-based firm was additionally honored as the 11th fastest growing company nationwide in the engineering industry, 27th in the Seattle metro area, and 30th out of the 130 Washington state firms that made the list. In 2012, Nytec cracked the list for the first year with a 176% growth rate that was reflected in their 1656th place.
"Being named to the Inc. 500|5000 for the second year is a recognizable testament to the rapid growth we have experienced for the past four years," said Nytec CEO Richard Lerz. "I attribute much of our success to our stellar engineers, employee-focused corporate culture, and continually reinvesting in our world class facilities."
Nytec expects to continue their trajectory path, with plans to double their current employee base by the end of next year. Their rapid growth was also recently acknowledged by the Puget Sound Business Journal in August of this year as the 8th Fastest Growing Private Company on the Eastside of the Seattle Metro Area. Nytec attributes much of their success to their ability to advance with the increasing hardware industry and to quickly respond to the rapid demand for specialized engineers and product designers. For more information on the ranking and Nytec's full profile please visit http://www.inc.com/profile/nytec.
ABOUT NYTEC
Founded in 1975, Nytec is an industry leader in providing engineering services with a high degree of global experience, and unparalleled talent. Nytec's features and services include: hardware/software test & development engineers, hardware technicians, audio/video test, RF test engineers, USB testing, benchmark testing, lab management, 3D printing, rapid prototyping, LabView development, IT support staff, HALT/HASS testing, and product development from R&D and proof of concept to manufacturing. Headquartered in Redmond, WA, Nytec has forged tight partnerships with leaders in cutting edge technology and their experienced team of engineers and technicians have been involved in multiple groundbreaking projects. For more information, please visit http://www.Nytec.com or call 425.968.5715.
METHODOLOGY
The 2013 Inc. 500|5000 is ranked according to percentage revenue growth when comparing 2009 to 2012. To qualify, companies must have been founded and generating revenue by March 31, 2009. They had to be U.S.-based, privately held, for profit, and independent—not subsidiaries or divisions of other companies—as of December 31, 2012. (Since then, a number of companies on the list have gone public or been acquired.) The minimum revenue required for 2009 is $100,000; the minimum for 2012 is $2 million.