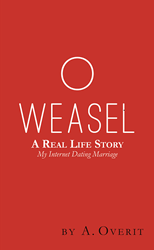 New York, NY (PRWEB) May 26, 2015
A book on Internet marriage was recently published, available on Amazon, called "O Weasel". The author, Ann Overit, was once a user of the famous millionaire dating site MillionaireMatch.com, and this very book tells exactly her Internet dating and marriage story that happened on and off MillionaireMatch.
Ann and her husband met each other on the dating site. Things happened so fast that Ann decided to leave her job, her family and even her country for a chance at love. "Millionaire Match really did its job. My husband and I met on MM last year. We fell in love and married shortly thereafter." Ann was still excited when talking about how they first met. However, this relationship turned out to be more than what Ann had expected.
"In a short time I experienced passion and love, fear of a former lover, anxiety of love going bad, anger and conflict." said Ann, who went through the wedding despite nagging doubts. The wedding, however, turned out to be an omen of what is to come in their marriage. Each day thereafter, became more bizarre.
Sometimes shocking, sometimes scary, but always entertaining, O Weasel paints a frighteningly true story of a proper Southern woman whose search for love leads her into the arms of a husband she doesn't know.
The new book about this Internet dating and marriage is now available on Amazon in paperback and Kindle version. Click here to know more.
About MillionaireMatch
MillionaireMatch.com is a millionaire matchmaker that has been bringing successful singles together for over 14 years. Their members include CEOs, pro athletes, doctors, lawyers, investors, entrepreneurs, beauty queens, fitness models, Hollywood celebrities, etc. MillionaireMatch.com was highlighted as a luxury dating site on Forbes.com.