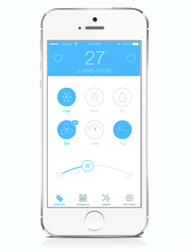 O2U is the most accurate and convenient solution for a better, easier and fun way to control your air conditioner.
San Francisco, CA (PRWEB) June 19, 2014
INAIR PTE, a developer of smart home solutions, announced today that it would be revealing its leading product, O2U (http://o2u.io), at the BootstrapSummit 2014 in San Francisco. O2U is an intelligent and environmentally friendly solution that enables consumers to monitor and control the temperature in their homes efficiently and conveniently.
O2U is the first product from a long list of devices that will make your home more energy-efficient, convenient and connected. O2U combines hardware, software, algorithms and extensive research on ACs to allow users to easily transform conventional ACs into intelligent and connected ones.
"O2U is the most accurate and convenient solution for a better, easier and fun way to control your air conditioner," said Anton Zriashchev, INAIR PTE Ltd. CEO and founder. "Not only is a great solution, but people will enjoy using it."
O2U hardware parts consist of two elements: a smart sensor and a central hub. To connect an AC, users simply need one sensor for each AC—depending on the number of devices they own—while one hub keeps them all linked. Additionally, an embedded sensor allows O2U to follow the consumer room to room and change the AC's mode to reduce any unnecessary energy consumption and prevent it from overcooling. Users can remotely control O2U via an intuitive mobile app that allows them to set a comfortable temperature very simply. As days go by, the system collects data about your preferences to provide a customized temperature profile based on your behavior, which is optimized by energy-efficient algorithms.
Additionally, O2U has two distinctive features: it is wireless, and the smart sensor does not have to be fixed to a permanent spot. This allows the user to place it in any location where the reading is more precise and in-tune with their exact positioning in the room.
For more information about how O2U solution can help you save money on cooling and increase indoor-temperature comfort, please visit: http://www.o2u.io. Information of the Bootstrap Summit event can be found on: http://bootstrapsummit.com.
About O2U: Founded in 2014, INAIR PTE Ltd. is privately held and headquartered in Singapore. It was founded by a group of young and energetic entrepreneurs who aim to have an impact in the smart home automation solutions category.