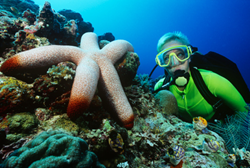 Courtyard Marriott Waikiki, a Honolulu Hotel, has special offers to welcome visitors who come to enjoy the many exciting activities available nearby.
Honolulu, HI (PRWEB) February 27, 2015
Diving is a popular Oahu activity both among locals and guests of Honolulu Hotels. Those planning a visit to Oahu can consider some of the top Oahu dive sites described below. Courtyard Marriott Waikiki, a Honolulu Hotel, has special offers to welcome visitors who come to enjoy the many exciting activities available nearby. View offer details >
Hanauma Bay
One of the most popular dive sites, Hanauma Bay draws many who want to enjoy this exciting Oahu Activity. Because this is 1 of the more well-known sites, it is often crowded, but many feel it is worth it to enjoy the abundant marine life. One great thing about Hanauma Bay is that it is appropriate for both novice and experienced divers. Snorkelers can choose to stay in waist deep water while experienced divers can venture through "the slot" and end up in a lovely cove.
Wreck of the Mahi
Wreck sites are always a thrilling choice for divers, and the Wreck of the Mahi is 1 of the most popular on Oahu. This minesweeper was more than 180 feet in length. Today it is home to abundant marine life including fish, rays, eels, and sea turtles.
Shark's Cove
Despite the name, sharks have not been spotted at this Oahu dive site. Located on the North Shore, it is a place where divers can spot a variety of fishes and other marine life. Novices can stick to the pools while more experienced divers can explore the deep sea caves.
Kapiolani Park Beach
Guests at Honolulu Hotels like Courtyard Marriott Waikiki will find that this dive site is located nearby. Found near Waikiki Aquarium, a popular Honolulu Attraction, Kapiolani Park Beach is home to abundant marine life, and is a good choice for beginners.
About Courtyard by Marriott Waikiki – An Oahu Hotel:
Our Oahu Accommodations give our guests the chance to experience all the best that Oahu has to offer – all within a short distance of our conveniently located Honolulu Hotel. Courtyard by Marriott Waikiki Beach is just a few steps from the world-famous Waikiki Beach and a short drive from Honolulu International Airport.
The beautiful Guest Rooms at Courtyard by Marriott Waikiki feature comforts and amenities that make all of our visitors feel right at home. Guests can email or post pictures using our super-fast complimentary internet connections, watch movies on flat panel TVs, and get tips from our Concierge about Oahu Attractions, Oahu Events, Oahu Activities, Oahu Restaurants, Oahu Shopping, and more. Private Lanais and Dreamer Beds with Pillowtop Mattresses assure a relaxing stay.
Planning a visit to Oahu? Choose Courtyard by Marriott Waikiki Beach. Our ideal location, well-appointed Guest Rooms, thoughtful amenities, and attentive service keep our guests coming back again and again. Check Rates, Make Reservations or call 808-954-4000.
Visit our Oahu Visitors Guide when planning a stay on this beautiful Island.
Take a Photo Tour of our Waikiki Hotel and the island of Oahu.