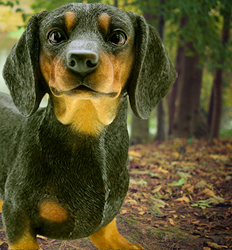 Oak Valley Decor now features an extensive collection of Animal Garden Statues so lifelike they could be real!
Toronto, Ontario (PRWEB) January 20, 2015
Animal Garden Statues are the newest trend in outdoor garden decor. Nestled within a flower patch, or featured front and center, friends and family are bound to do a double take at their surreal, lifelike nature. Oak Valley Decor now features an extensive collection of Animal Garden Statues so lifelike they could be real.
The Oak Valley Animal Statue Collection contains just about any animal imaginable including bears, birds, deer, horses, chickens, bald eagles, pigs, penguins, lions, turtles, numerous dog breeds, and many more. All Oak Valley animal garden statues are crafted in sturdy, durable polyresin that is able to withstand outdoor elements. Each garden statue is beautifully molded to capture the unique characteristics of the animal, and painted with stunning, intricate details to bring them to life.
Bring the love of rustic farm life home with animal garden statues of hens, chickens, roosters, sheep, horses, pigs, cows, and never feel too far away from the beauty and charm of a country farm.
Add an element of surprise to a garden, deck or patio with Oak Valley Exotic Animal Statues including penguins, giraffes, camels, elephants, crocodiles, pandas and gorillas. Or, incorporate a love of local wild life with deer, ducks, owls, coyotes, and birds such as majestic flying herons and stunning white swans.
Celebrate a beloved family pet with a lifelike dog statue. Oak Valley has an extensive collection of lifelike puppy and adult size Dog Statues. Available breeds include Poodle, Dalmatian, Schnauzer, Yorkshire Terrier, Lab, Cocker Spaniel, Bull Dog and many, many more.
Visit the Oak Valley Home and Garden Decor Online Store where stunning home and garden decor options are endless, affordable and unique. Find the perfect addition for a home and garden, or order a unique gift for an animal loving friend.
About Oak Valley Home and Garden Decor:
Oak Valley Decor has carefully selected each item in their home and garden collections. In selecting a piece for their collection, items are evaluated on quality, artistry, craftsmanship, style and durability to ensure that every piece meets rigorous standards of quality control, and only first-class products of the finest quality are offered to customers.
For further information, please contact:
Contact: Mark Rafanan
Phone Number: 1-800-868-9176
Email: info(at)oakvalleydecor(dot)com